Lawyer decries 'desinicization' of his grandchildren
An 81-year-old lawyer who came to Taiwan with the Chinese Nationalist Party (KMT) when he was 13 said in an interview with China's CCTV that he is full of "bitterness" that his four grandchildren are all "little Taiwan independence [supporters]."
Kao Ping-han (高秉涵), who was born in China's Shandong Province in 1935, took his family to China in July to "find their roots," and during the trip he was followed by a group of Chinese reporters.
Kao is famous in China after he received the "Moving China" award in 2012 for his efforts in helping more than 100 veterans' families take their loved ones' ashes to China after they passed away in the past 20 years.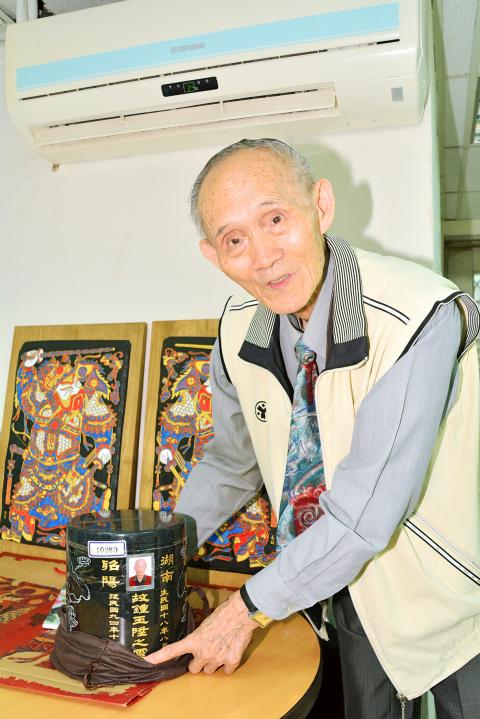 Kao Ping-han holds an urn of ashes in Taipei on April 1. Kao helps veterans' families send their loved ones' ashes to China.
Photo: CNA
In the interview, Kao said he had taken his grandchildren to China so that they could learn more about Chinese culture, and visit the Yellow River and famous mountains "that are in their textbooks."
"I want them to look at them for real. They think that those belong to China and have nothing to do with Taiwan," Kao said.
When a journalist asked Kao's 10-year-old grandchild: 'Are you Chinese?' she replied: 'No, my grandpa is Chinese; I'm Taiwanese,'" Kao said.
"I'm full of bitterness," Kao said.
The CCTV reporter said she could not understand how "that kind of situation emerged" among his grandchildren.
To the reporter's puzzlement, Kao said it was due to "so-called Taiwanese cultural independence."
"After [former president] Chiang Ching-kuo (蔣經國) died, [former president] Lee Teng-hui (李登輝) implemented 'desinicization' during his eight years of presidency, which was followed by [another eight years of former president] Chen Shui-bian (陳水扁). There had been nearly 20 years of 'desinicization,'" Kao said.
"There is nothing I can do; those who voted for [President] Tsai Ing-wen (蔡英文) are exactly those 'little Taiwan independence [supporters]' who started [to form] 20 years ago," Kao said.
"Taiwan itself has no culture, as it is part of the Zhonghua minzu [Chinese ethnic group, 中華民族]; its culture is China's culture, but what the Democratic Progressive Party has taught them is to believe that Taiwan belongs to the Aborigines," he said. "I asked one of my granddaughters which is the longest river in our country and she said it was the Tamsui River, when I expected her to say the Yangtze or the Yellow River, which she said are not Taiwanese rivers. They will not say Taiwan is a nation, a notion they have not yet acquired, but [they simply say] they are Taiwanese."
"I'm doing my job as everybody has to when the nation is in trouble," Kao said in response to reporters' queries as to how he could change the trend by himself. "By bringing my grandchildren [to China] I want them to recognize their ancestors and remove from them this independence [thinking]."
Comments will be moderated. Keep comments relevant to the article. Remarks containing abusive and obscene language, personal attacks of any kind or promotion will be removed and the user banned. Final decision will be at the discretion of the Taipei Times.