Government can take controversy: Tsai
NEW BUDS: Decreasing job opportunities, stagnant wage growth and the income gap are a reality, the president said, explaining why her administration is pushing change
The government is not afraid of controversies, as "they could help us face the core of the problems," President Tsai Ing-wen (蔡英文) said yesterday, as she acknowledged that the administration over the past three months has been encountering disputes on various fronts.
Tsai attended a seminar, titled "Direct Election of President and Taiwan's Democratic Development in the Past 20 Years," held by the Lee Teng-hui Foundation in Taipei, along with former president Lee Teng-hui (李登輝).
Lee, 94, said that although Taiwan in the past faced internal democratic dysfunction and is still under external pressure from China, he is optimistic about the nation's democracy, which, if its values and rule of law are bolstered, will allow Taiwan to become a sound democracy and a normalized nation.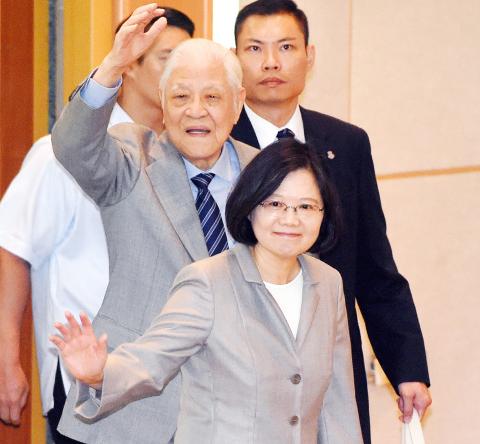 President Tsai Ing-wen, front, and former president Lee Teng-hui, behind, yesterday wave at a seminar on Direct Election of Presidents and Taiwan's Democratic Development in the Past 20 Years held by the Lee Teng-hui Foundation in Taipei.
Photo: Liao Chen-huei, Taipei Times
Speaking after Lee, Tsai said that in 1996 Taiwanese for the first time elected their own national leader.
"The direct election of the president, the milestone of the nation's democratic development, is not a historical contingency, but the outcome of the joint effort of social and political powers," she said.
"We have reached a preliminary success after more than 100 years of pursuit, and Lee Teng-hui's direct election and his time in office signifies a special meaning in Taiwan's history of democratization," she said.
Tsai said she was not only there to talk about the past, "as I am also willing to share the government's views on the seminar's subtopics of civic power, the economic outlook, transitional justice, cross-strait relations and innovation."
"We have entered an era in which civic society has become vibrant; pluralism and participation are the characteristics of a democratic society in which it takes more time and effort for the government to engage communication," she said.
"Now people have more channels for direct participation; the government cannot be indifferent to various opinions, but needs to sort out all kinds of disputes and carry out comprehensive communication via democratic procedures, and make decisions based on the interests of the whole," Tsai said, adding that is exactly what the government has been doing over the past three months.
She said that there is a common root of all the disputes that have taken place in the past three months, which is the "deterioration of the economic environment."
"We have to admit that decreasing job opportunities, stagnant wages and the widening income gap are the nation's reality, and that is why we are pushing new polices about industrial innovation that would not only spur economic growth, but also render sound social development," she said.
Besides aiming for a transformation that puts an emphasis on innovation, employment and distribution as aspects of economic and social reforms, political reforms are also a priority for the government, Tsai added.
"A society that is extremely polarized due to historical issues cannot unite or march forward together. We will initiate a project of historical investigation, re-examine authoritarian history, reconstruct the experiences of the victims and promote reconciliation through conversation and reflection," Tsai said, calling transitional justice "the last mile of Taiwan's democratization."
Redressing the injustices that Aborigines suffered is also the government's goal, Tsai said.
"Besides issuing an apology to Aborigines, the government will protect their interests through policy improvement," she said.
Twenty years after the first direct presidential election, "we have a different mission and the government will carry on the effort of consolidation of democracy and we hope that when we look back 20 years from now, we can say that we have also set a milestone," Tsai said.
"Taiwanese are democratic people; Taiwanese are free people. We will strive to make a better future just as we overcame challenges in the past," she said.
Comments will be moderated. Keep comments relevant to the article. Remarks containing abusive and obscene language, personal attacks of any kind or promotion will be removed and the user banned. Final decision will be at the discretion of the Taipei Times.