EPA ad promotes greener worship
DEVOUT POLLUTERS: Taiwanese burned 240,000 tonnes of ghost money last year, and if it was all stacked up, it would be taller than Taipei 101 by 15 times, the EPA said
The Environmental Protection Administration (EPA) on Wednesday launched an educational television commercial to encourage the public to reduce burning incense and ghost money ahead of the Ghost Festival next week.
The commercial, produced by director Wu Nien-jen (吳念真) and featuring television personality Guo Zhi-chien (郭子乾), shows deities, repelled by the smoke of incense and ghost money and the noise of firecrackers, instructing believers to give up traditional worship practices and adopt a more environmentally friendly one.
"Burning incense and ghost money creates air pollution. The public is advised to donate the money used to buy ghost money or simply worship the gods without paper offerings," EPA Minister Lee Ying-yuan (李應元) said.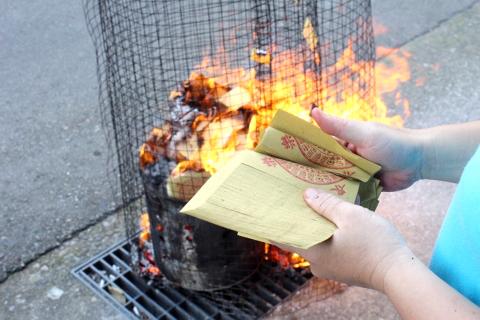 A person burns ghost money in Taichung on Monday.
Photo copied by Tsai Shu-yuan, Taipei Times
The nation burned 240,000 tonnes of ghost money and 3,000 tonnes of incense last year, the equivalent of the annual emissions of 20,000 cars, the EPA said.
If all the ghost money burned last year was stacked up, it would be taller than Taipei 101 by 15 times, or 7,436m, the agency said, adding that if all the incense burned last year was lined up, it would be 1 million kilometers long and could circle Taiwan 959 times.
Burning ghost money produces 610 tonnes of PM2.5 — fine particulate matter measuring less than 2.5 micrometers — and 8,236 tonnes of carbon emissions every year, and it creates carcinogenic pollutants such as benzene, formaldehyde and polycyclic aromatic hydrocarbons.
Two-thirds of incense and ghost money are imported and might have a lower quality than local products, thereby producing more pollution, Lee said.
If people must worship with paper offerings, they are recommended to burn a limited amount and have environmental officers collect the offerings and burn them at incinerators fitted with pollution mitigation equipment, he said.
Taoist Hsing Tian Kong (行天宮) temple executive officer Lee Chu-hua (李楚華) said the temple banned ghost money in 1967 and incense in 2014, and it is the first in the nation to do so.
Birds have nested in the temple since the ban was imposed, Lee Chu-hua said.
"The temple met with much resistance when announcing the ban, but religious authorities should take the lead on improvement," he said. "Sincerity is all it takes when it comes to worshipping. Without paper offering, Hsing Tian Kong is still popular among pilgrims. Other temples can definitely follow suit."
The governments of Kaohsiung, Chiayi and Hsinchu County have launched a charity program with the FamilyMart convenience store chain to encourage people to donate to charity as an alternative to burning offerings, the EPA said.
Comments will be moderated. Keep comments relevant to the article. Remarks containing abusive and obscene language, personal attacks of any kind or promotion will be removed and the user banned. Final decision will be at the discretion of the Taipei Times.