Taichung to ban drones in certain public areas
NO-FLY ZONE: A ban on flying drones in the city's Citizen Plaza and Calligraphy Greenway is planned amid concern over privacy and risks from colliding or falling machines
The Taichung City Government is planning to ban drones in two public areas — the Calligraphy Greenway and Citizen Plaza — later this month in a bid to prevent injury from drone collisions or malfunctioning machines.
The city's Construction Bureau said that as the devices are growing in popularity and more people are using them in public spaces during holidays, there is a risk to people and property from drones colliding and crashing to the ground.
Residents in buildings around the plaza and greenway have expressed concern about the camera-equipped devices encroaching on their privacy, the bureau said.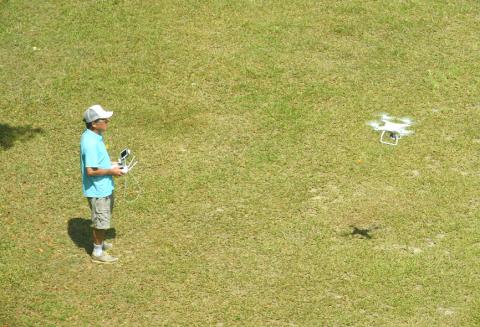 A man pilots a drone on Sunday at a park in Taipei.
Photo: Chang Chia-ming, Taipei
There is also the risk of signal interference as drone usage grows, causing loss of control over the devices and potential accidents, the bureau added.
It cited as examples a drone crashing into the Taipei 101 skyscraper in July last year; a drone falling and injuring a woman at Sun Moon Lake in June; and another one crashing into the High Speed Rail tracks in Hsinchu.
"Using drones can be dangerous and there is still no government agency tasked with regulating their usage. This is especially problematic given that the machines can be purchased online for as little as NT$50,000 to NT$60,000. The low cost of drones means that they can now be seen flying everywhere, spreading with no resistance," said a bureau official, who declined to be named.
The bureau said that public safety and environmental protection are its main concerns, and it aims to prevent an incident before one occurs.
It added that in accordance with public interests, it will invoke Item 11.2 of Clause 99 of the Civil Aviation Act (民航法) to prohibit the operation of drones in prohibited and restricted areas.
Calligraphy Greenway and Citizen Plaza will be designated as two of these restricted areas under the city's park ordinance, the bureau said, adding that signs will be posted and an announcement made before the new restrictions take effect later this month.
No exact date was given.
Comments will be moderated. Keep comments relevant to the article. Remarks containing abusive and obscene language, personal attacks of any kind or promotion will be removed and the user banned. Final decision will be at the discretion of the Taipei Times.