Marathon budget session begins
NATIONALIST ICONS: The KMT has 1,668 proposals for slashing funding, even proposing cuts for Chiang Kai-shek Memorial Hall and Sun Yat-sen Memorial Hall
A refusal by the Chinese Nationalist Party (KMT) caucus yesterday to enter into negotiations on any issue regarding budget proposals for state-owned businesses means the extraordinary legislative session's budget review will be prolonged until Friday.
The Legislative Yuan is to vote on 1,668 different proposals from the KMT on either slashing or freezing funding, nearly five times as many as last year, even after the Democratic Progressive Party (DPP) caucus said that it would drop its own 818 proposals for slashing and freezing funding.
The DPP proposed yesterday afternoon to have a marathon session lasting until midnight on Friday to get through the bulk of the proposals.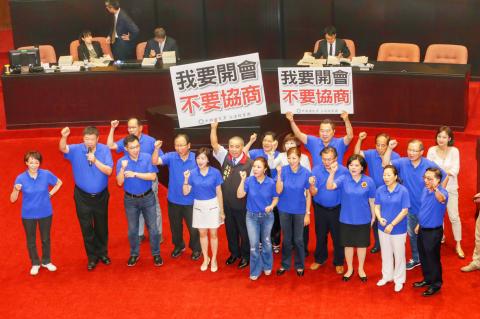 Chinese Nationalist Party (KMT) legislators protest in the chamber of the Legislative Yuan in Taipei yesterday, calling for plenary deliberations on state-run enterprises' budgets rather than consultations.
Photo: CNA
According to Legislative Yuan statistics for 2012, 2014 and last year, inter-party negotiations on proposals on state-owned businesses budgets drastically lowered the number of proposals that had to pass the legislature to 181, 92 and 211 respectively.
At the rate the voting was being conducted — the extraordinary session concluded 20 proposals between 2:30pm and 6pm yesterday — there was little chance of completing all 1,668 KMT proposals by Friday, the DPP said.
Meanwhile, earlier yesterday afternoon, the KMT's proposal to slash NT$500 million (US$15.57 million) from the operational costs of national cultural establishments was criticized by the DPP as "opposing for opposition's sake."
The KMT is proposing slashing funding that former president Ma Ying-jeou's (馬英九) administration approved, including covering the operational costs of the Chiang Kai-shek Memorial Hall and Sun Yat-sen Memorial Hall, DPP Legislator Chen Chi-mai (陳其邁) said.
"Perhaps the KMT is implementing transitional justice as well," Chen added.
Chen asked whether the KMT was willing to make up the difference, as KMT Legislator Hsu Chen-wei (徐榛蔚) proposed slashing NT$500 million from the budget, while the proposed budget was only NT$346 million.
DPP Legislator Ho Hsin-chun (何欣純) said the KMT was not giving affairs of state their due respect by displaying "such a cavalier attitude."
Additional reporting by CNA
Comments will be moderated. Keep comments relevant to the article. Remarks containing abusive and obscene language, personal attacks of any kind or promotion will be removed and the user banned. Final decision will be at the discretion of the Taipei Times.