Coral bleaching prompts call for fishing reductions
A joint panel of academics from the Mission on Monitoring the Whitening of Corals in Taiwan called for the nation to reduce development, scuba diving and fishing in coral reef areas to allow coral reefs to recover.
The mission, formed by coral reef experts from Academia Sinica, National Taiwan University, National Sun Yat-sen University, the National Museum of Marine Biology & Aquarium, the Taiwan Environmental Information Center, the Oceanus Honors Gaia Association and the Taiwanese Coral Reef Society, said that there had been increasing amounts of coral whitening around the Pratas Islands (Dongsha Islands 東沙群島) and Kenting (墾丁) area since May.
Changing weather patterns, as well as El Nino has led to the warming of seawater, which causes coral bleaching once water temperatures exceed the corals' heat tolerance levels, mission member Chen Chao-lun (陳昭倫) said.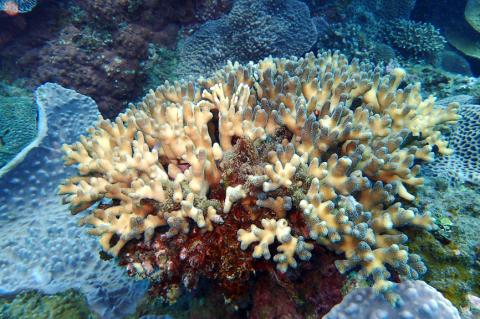 Coral that has whitened due to warming seawater is pictured in an undated photograph.
Photo courtesy of Chen Chao-lun
Chen said that Typhoon Nepartak, which crossed Taiwan earlier this month, had done little to cool local waters, adding that coral reefs are likely to suffer more bleaching in the near future due to above-average water temperatures off Taiwan's coast.
Strong sunlight and large waves can expose coral reefs in costal areas to hot air, which also increases bleaching, Chen said.
The mission will continue to monitor coral bleaching until September, it said, adding that should the public have any information on coral bleaching, they can contact the Oceanus Honors Gaia Association on its Facebook page.
Chen said that there is very little people can do to help stop coral bleaching.
Chen said people must strive to lower carbon emissions and avoid disturbing coral reefs, adding that fishing trawlers in the area should curb overfishing.
Chen also called on the local tourism industry to suspend scuba diving and snorkeling to allow reefs to recuperate.
Comments will be moderated. Keep comments relevant to the article. Remarks containing abusive and obscene language, personal attacks of any kind or promotion will be removed and the user banned. Final decision will be at the discretion of the Taipei Times.