Doodles on exams cost students points
At least one test paper for almost every subject tested in this month's college entrance exams had been doodled on, the College Entrance Examination Center said, adding that points would be deducted for the violations.
The center convened a meeting on Friday to discuss 46 counts of doodling on test papers and decided that each breach would mean a 2-point deduction from the overall score.
The center said one test paper had an "exquisitely drawn" airplane, while another was covered entirely in drawings, with the student writing: "My thoughts."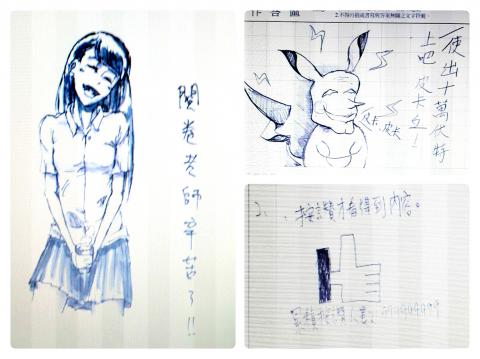 A selection of doodles drawn by students on their College Entrance Examination test papers are shown in an undated photo.
Photo: CNA
One paper depicted an anime-style character with the phrase: "Thanks to all teachers marking the papers."
Another student drew a likeness of Pokemon character Pikachu and wrote: "Use thunderbolt, Pikachu."
Five students also violated test regulations by wearing fitness trackers into the exam room, the center said.
A student in New Taipei City was found wearing a Garmin Vivofit, while another student in Taoyuan was found wearing a Mi bracelet, it said.
A monitor in both cases asked the students to remove the devices and placed them in storage until the end of the test.
A student in Hsinchu was also found wearing a Mi bracelet, while another student in Taichung had an Asus Vivo Watch, the center said.
Students in New Taipei City, Taoyuan and Hsinchu were docked 2 points. The student in Taichung was docked 5 points, as the device worn was explicitly banned in examination areas, the center said.
A member of the committee said that fitness trackers and smartwatches are becoming more common and the center must remind students not to wear them into the examination area to prevent them losing points.
The center said that the ban had been implemented in recent years to prevent potential cheating.
Comments will be moderated. Keep comments relevant to the article. Remarks containing abusive and obscene language, personal attacks of any kind or promotion will be removed and the user banned. Final decision will be at the discretion of the Taipei Times.