Organism identified in Matsu's blue tides
SPARKLES: National Taiwan Ocean University said that a new campus on Matsu would see students from next year spend three academic years in Keelung and one on Matsu
A species of glowing flagellate protists called Noctiluca scintillans, also known as sea sparkles, has been identified as one of the light-emitting organisms responsible for creating Mastu's bioluminescent blue tides, a National Taiwan Ocean University research team said on Monday.
Similar to the red tide in the Gulf of Mexico, the blue tide of Matsu — also known as "Blue Tears" — is a naturally occurring nighttime phenomenon of blue luminescence in the sea near Matsu between April and August and is a major tourist attraction.
Chiang Kuo-ping (蔣國平), director of the university's Center of Excellence for the Oceans, said his team had confirmed that the protists known as sea sparkles are one of the main species causing the blue tides.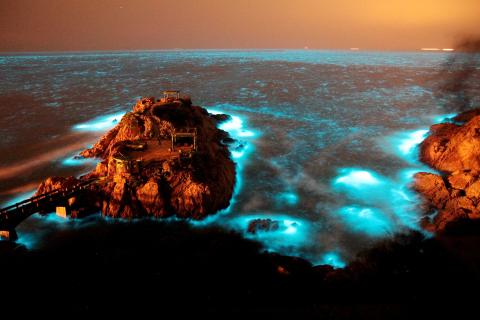 The naturally occurring nighttime phenomenon of blue luminescence, known as the blue tide of Matsu, is pictured in an undated long-exposure photograph.
Photo courtesy of Lienchiang County
Using capillary tubes with the aid of microscopes, researchers were able to extract the glowing organisms from samples they took from the ocean, Chiang said, adding that a university lab had grown sea sparkles in captivity, completing one of its research objectives.
Sea sparkles are a species belonging to a subset of single-cell protists called dinoflagellates, and while about half of all dinoflagellates are photosynthetic organisms, the other half — including sea sparkles — are predators that survive by devouring smaller creatures, Chiang said.
An individual sea sparkle is a transparent, spherical organism with a diameter of between 0.2 millimeters and 2mm, a mouth at the rear of a ventral crevice and a large forward-facing tentacle for strong-arming prey, he said.
Tsai Sheng-fang (蔡昇芳), a research fellow at the center, said that sea sparkles' light-emitting mechanisms are found in their cellular membranes, with an individual light source being between 0.5 micrometers and 1.5 micrometers.
An individual sea sparkle possesses roughly 10,000 of these light sources, Tsai said.
Each light source has three biochemical components: an oxidase, a protein structure and luciferin — the light-emitting agent, Tsai said, adding that when a sea sparkle glows, the protein structure "grabs" the luciferin and attaches it to oxidase, leading to oxidation and the production of a blue light.
"Each light source is capable of releasing about 100,000 photons in an estimated 80-millisecond burst, creating a sparkling effect in the sea that is quite different from the long-exposure photographs taken during blue tides, which present a false image of solid blue light that is not what the naked eye sees during an event," he said.
University president Chang Ching-fong (張清風) said that the facility acknowledged Lienchiang County Commissioner Liu Tseng-ying (劉增應), County Councilor Chang Yuan-chiang (張永江) and Chinese Nationalist Party (KMT) Legislator Chen Hsuen-sheng (陳雪生) for supporting the university's bid to open a new campus on Matsu next year.
The Matsu campus is to have three departments and students are to spend three academic years at the university's Keelung Campus and one on Mastu, he said.
The university received a NT$50 billion (US$1.55 billion) grant from the Ministry of Education's Aim for the Top University Plan to fund the university's five-year project to research the blue tide phenomenon, Chang Ching-fong said.
Comments will be moderated. Keep comments relevant to the article. Remarks containing abusive and obscene language, personal attacks of any kind or promotion will be removed and the user banned. Final decision will be at the discretion of the Taipei Times.