Part-time lecturers protest unfair pay at universities
Part-time lecturers working at private universities and members of the Taiwan Higher Education Union yesterday protested in front of the Ministry of Education, calling on it to promulgate rules to ensure that lecturers at private schools are paid the same hourly rates as their counterparts at public institutions.
Union director Chen Shu-han (陳書涵) said that 72 of the nation's 110 private universities, or 67 percent, pay part-time lecturers the basic hourly rates set 23 years ago, while commodity prices have soared by 35 percent since then.
Although the Act Governing Teachers' Salaries (教師待遇條例), which took effect this year, stipulates that teachers at public and private schools should receive the same hourly fees, many schools have ignored the law, Chen said.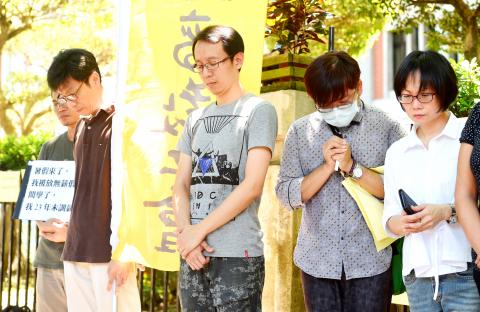 Part-time teachers yesterday observe a minute's silence outside the Ministry of Education in Taipei as part of a protest against unequal pay conditions.
Photo: Lo Pei-der, Taipei Times
Citing ministry statistics, she said that as of last year, there were more than 46,000 part-time lecturers working at private universities.
The ministry in 2014 raised hourly fees for part-time lecturers at public universities, but implemented a set of regulations saying that private institutions could set hourly rates for part-time lecturers after considering their financial conditions, Chen said.
This rule should be changed to ensure that part-time lecturers at private universities are paid the same wage for the same amount of work performed by their counterparts at public universities, she said.
Chen said the hourly pay received by full-time and part-time lecturers would be roughly equal if part-time lecturers' hourly rates were raised by 16 percent, but many private universities have refused to do so, even though the extra spending would only constitute a small fraction of their annual revenues.
The union made a comparison between the cost of granting raises to part-time lecturers at 15 of the universities and the money the schools made in 2014.
The Oriental Institute of Technology had the widest gap, as raising the wages of its 114 part-time lecturers would have cut its NT$2.15 billion (NT$66.6 million) revenue by only 0.07 percent.
Soochow University, Chinese Culture University, Ming Chuan University, Shih Hsin University, Tamkang University and Feng Chia University were among the schools the union said did not give part-time teaching staff pay raises.
Hsu Wen-lu (徐文路), a part-time lecturer at five universities, said he earns NT$50,000 a month by teaching about 22 hours per week, but that he only gets paid nine months out of the year, during which he spends NT$14,000 for travel and rent.
The ministry said it gives importance to protecting part-time lecturers' rights, adding that it would continue gathering opinions on the issue before drafting a solution.
Comments will be moderated. Keep comments relevant to the article. Remarks containing abusive and obscene language, personal attacks of any kind or promotion will be removed and the user banned. Final decision will be at the discretion of the Taipei Times.