Chair-wielding lawmakers bicker over labor rules
'PLAYING HAPPILY': DPP legislators shouted that a 'shadow' committee meeting had ignored legislative rules, which they said prohibited agenda changes on short notice
A scheduled meeting of the Legislative Yuan's Social Welfare and Environment Hygiene Committee was empty most of yesterday following fierce inter-party bickering over agenda-setting rights, with the committee's Democratic Progressive Party (DPP) majority refusing to agree to late night changes by Chinese Nationalist Party (KMT) Legislator Alicia Wang (王育敏), the committee's co-convener.
A group of KMT lawmakers — including many non-committee members — occupied the convener's podium early yesterday morning, sparking a shouting match with DPP committee members, with DPP Legislator Wu Kun-yuh (吳焜裕) seemingly swinging a chair at KMT lawmakers while banging it against the podium desk.
"Labor rights have become a major social issue over the past few days and according to legislative rules, committee conveners have the right to make agenda changes when major issues come up," Wang said, adding that DPP co-convenors of other committees in the past had made similar changes at short notice.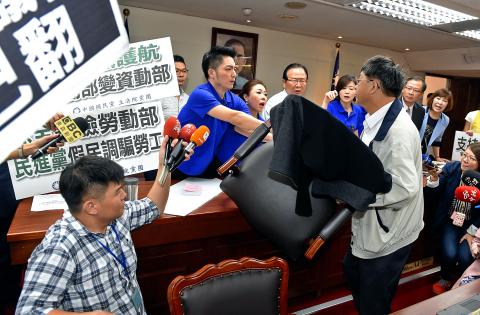 Democratic Progressive Party Legislator Wu Kun-yuh yesterday attempts to put a chair on the convener's podium during a meeting of the Legislative Yuan's Social Welfare and Environment Hygiene Committee while Chinese Nationalist Party (KMT) legislators occupy the podium.
Photo: Chien Jung-fong, Taipei Times
"What is the DPP afraid of or feeling guilty about? Why are is the party not willing to serve as a watchdog for workers' rights," she said.
After the committee's meeting on Wednesday adjourned, Wang led KMT members back to the committee room more than an hour later, changing the agenda to require Minister of Labor Kuo Fan-yu (郭芳煜) to report on new rules that would ban people from working more than seven days in a row.
The ministry is in the process of making adjustments to implement a universal 40-hour work week, with proposed amendments to the Labor Standards Act (勞動基準法) to be sent to the Legislative Yuan during the current legislative session.
"Today's actions were those of an authoritarian government concerned with squeezing everything possible out of workers — that is why they do not dare face exploration of this topic in the committee," KMT caucus whip Lin Te-fu (林德福) said, adding that the DPP had interfered with legislative business by pressuring Legislative Yuan officials to cancel the invitation to ministry officials.
DPP legislators shouted that Wednesday evening's "shadow" committee meeting ignored legislative rules, which they said prohibited agenda changes on short notice.
"Wang was just playing happily by herself," said DPP committee co-convener Lin Shu-fen (林淑芬). "We can respect the opposition's desire to boycott legislation, but if you can make up rules and disrespect the order that is seen in almost any meeting, the Legislative Yuan might as well shut down, because the KMT co-convener could just hold meetings in her caucus office, writing the conclusions herself."
"[Wang] yesterday [Wednesday] announced that the meeting was adjourned and would continue today. If you can hold a parody of a meeting an hour later, there are no valid legislative rules," DPP caucus secretary-general Wu Ping-jui (吳秉叡) said.
Lin said that according to legislative rules, each week's agenda could only be changed on Monday, before official discussions begin, adding that Kuo would be invited to report to the committee next week.
Comments will be moderated. Keep comments relevant to the article. Remarks containing abusive and obscene language, personal attacks of any kind or promotion will be removed and the user banned. Final decision will be at the discretion of the Taipei Times.