Formosa Plastics faces protests
LEVERAGE: A Vietnamese worker said the protest in Taipei would put pressure on Hanoi, which had sought to censor coverage of similar protests back home
Vietnamese migrant workers yesterday protested outside a hotel where a Formosa Plastics Group (台塑集團) board meeting was taking place, calling on the firm to disclose pollution readings near a Vietnamese steel mill and condemning human rights violations associated with the plant.
More than 30 workers gathered outside Taipei's Sunworld Dynasty hotel, chanting slogans demanding clean sea water, while holding placards showing photographs of dead fish they said washed ashore along the Vietnamese coastline.
While the mill was originally scheduled to begin operations today, the accusations that mass deaths of marine life was linked to its construction have mired the project in controversy and the opening was indefinitely put on hold after Vietnamese authorities demanded that the group pay US$70 million in taxes it has been accused of evading.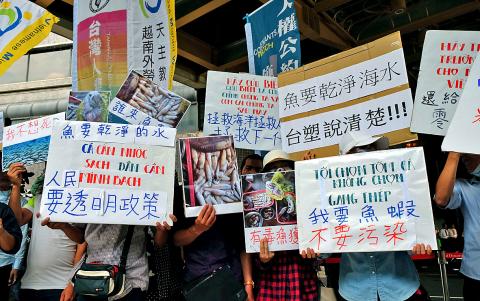 Vietnamese workers display placards and images of dead fish, which protesters say were killed by Formosa Plastics Group's waste water, at a demonstration outside the Sunworld Dynasty hotel in Taipei yesterday.
Photo: AFP
"When the fish are boiled, their bones turn green, so it is no wonder some people have gotten diarrhea from eating them," said Mai Hong Song, a factory worker in a Formosa Plastics plant in Taoyuan, adding that many Vietnamese fisherman were out of work because people no longer dared to purchase their catch.
He showed pictures and videos of wastewater from the plant which have circulated on Vietnamese social media, demanding that Formosa Plastics address the issue, while calling on the Taiwanese government to become involved in the investigation.
Protests in Taiwan were important to put pressure on the Vietnamese government as well, which had sought to censor coverage of similar protests domestically, he said.
Representatives from the Environmental Jurists Association, Covenants Watch and the Taiwan Association for Human Rights called on Formosa Plastics to release relevant data and provide compensation, while calling for new regulations to prevent investment scandals overseas.
"Formosa Plastics should shoulder it a social responsibility and make public all information to put an end to doubts and fears," Environmental Jurists Association president Chang Yu-yin (張譽尹) said, calling on the firm to publicize a list of materials imported to construct the mill, as well as any polluting by-products of the construction and how they would be addressed.
He added that the mill should be a Taiwanese concern, because the firm originally intended to construct it in Yunlin County before running into difficulties during an environmental review process.
"The relocation of the mill is the equivalent of 20 Dapu (大埔) cases occurring simultaneously in Vietnam," said Lin Yen-tung (林彥彤), a Taiwan Association for Human Rights housing specialist, referring to a controversial domestic case in which properties were illegally demolished.
He called on the company to provide appropriate compensation, while criticizing the Vietnamese government for denying school enrollment to the children of local residents as a tool to force their relocation.
Human Rights Conventions and Covenants Watch executive board member Huang Yi-bee (黃怡碧) called for legal revisions to force greater corporate responsibility, including allowing foreigners to sue Taiwanese corporations in domestic courts for abuses abroad.
Comments will be moderated. Keep comments relevant to the article. Remarks containing abusive and obscene language, personal attacks of any kind or promotion will be removed and the user banned. Final decision will be at the discretion of the Taipei Times.