DPP, NPP extend their boycott of committee meeting
'WASTE OF TIME': DPP and NPP legislators say that there is already consensus on directly abolishing the Red Cross Society Act, so a committee review is unnecessary
Pan-green lawmakers yesterday extended their boycott of a Social Welfare and Environmental Hygiene Committee meeting about the future of the Red Cross Society Act (紅十字會法), which was called by the committee's Chinese Nationalist Party (KMT) coconvener.
Signs condemning the Democratic Progressive Party (DPP) and New Power Party (NPP), and calling for a committee meeting lined desks in front of the committee meeting, attended only by KMT coconvener Alicia Wang (王育敏).
"The bills cover both sides of the issue — including abolishing rather than revising the law. Every legislator has a responsibility to participate in the review of legislation," she said. "Boycotting a committee does not display a democratic spirit."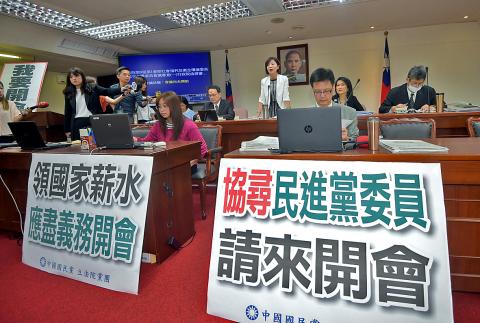 Chinese Nationalist Party (KMT) Legislator Alicia Wang, center back, yesterday urges lawmakers from other parties to attend a meeting to review a draft amendment to the Red Cross Society Act at a meeting of the legislature's Social Welfare and Environmental Hygiene Committee in Taipei.
Photo: Huang Yao-cheng, Taipei Times
She played Waiting for You to Return, a song from 1940s, before exiting, leaving the committee room to government officials, who took advantage of the committee members' absence to read papers and play with their mobile phones.
While three other KMT legislators had signed in, legislative rules require a quorum of five legislators before the 15-member committee can meet.
The committee's DPP and NPP legislators have boycotted the committee meeting since Wednesday saying that there is already consensus on directly abolishing the act, precluding any need for a committee review of draft amendments.
KMT objections to a motion to pass legislation directly on the legislative floor last month forced cross-caucus negotiations which failed to achieve consensus, with a final vote expected before the conclusion of the legislative session.
"I feel we should spend our time on laws which are more important to the nation," said DPP Legislator Wu Kun-yuh (吳焜裕), a committee member, adding that because the changes had been subject to review in previous legislative sessions, holding another committee review would be a "waste of time."
"Cross-caucus negotiations have already provided a platform for there to be discussion," NPP Legislator and committee member Hung Tzu-yung (洪慈庸) said. "We don't agree with the KMT's attempting to use committees to hijack the general assembly."
The Legislative Yuan's rules for electing committee's rotating coconveners provides minority legislators with opportunities to be elected and get a say in setting committee agendas, with Wang elected as coconvener after a DPP legislator miscast their ballot in March.
Comments will be moderated. Keep comments relevant to the article. Remarks containing abusive and obscene language, personal attacks of any kind or promotion will be removed and the user banned. Final decision will be at the discretion of the Taipei Times.