Children's choir to visit festival, after Tsai's help
The Puzangalan Children's Choir yesterday said that a shortfall in funding has been resolved by President Tsai Ing-wen's (蔡英文) donation of NT$500,000. The money came from the proceeds of Tsai's book entitled The Tsai Faction: Lighting the Way for the Taiwanese Mile, which was published in October last year.
The group asked the public not to donate any more money as they now have enough to attend the 11th Cantemus International Choral Festival in Hungary in August.
The group said it had originally intended to use the proceeds of their July 20 performance in Guangzhou, China, to cover the expenses of the Hungary trip.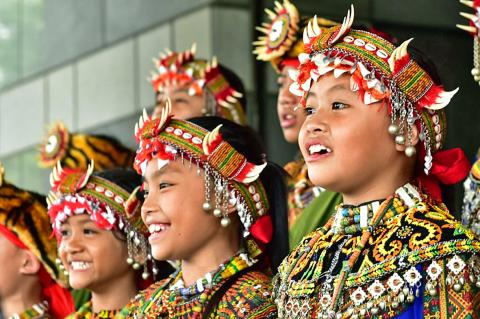 Members of the Puzangalan Children's Choir pose for a picture yesterday. The Paiwan word puzangalan means "hope."
Photo: Chiu Chih-jo, Taipei Times
However, China rescinded the invitation for the performance, reportedly due to the group's rendition of the national anthem during the presidential inauguration ceremony on May 20, the choir's director-general Tsai Yi-fang (蔡義芳) said.
Tsai at 10pm on Wednesday announced on Facebook that she would be donating NT$500,000, after Tsai Yi-fang told media outlets that the group lacked that amount for the Hungary trip.
The group on Facebook yesterday afternoon thanked people for their kindness and concern, adding that the choir members do not mind where or how large the stage is, so long as they can sing.
Pingtung County Commissioner Pan Men-an (潘孟安) said that the county government has contacted corporations in effort to tap them for funds.
The most significant thing is whether the children learned from this experience and gained further understanding of Taiwan and themselves, Pan said yesterday, adding that this was more important than going abroad or donating funds.
Twenty-seven of the 41 children in the choir are to attend the festival in Hungary, all of whom are from the Paiwan community and live in Pingtung County's Sandimen Township (三地門) or Majia Township (瑪家), the choir said.
Choir staff member Wu Sheng-ying (吳聖穎) said that the choir members were sad to lose the opportunity of performing in Guangzhou, but staff sought to lift their spirits by saying that they would now have more time to prepare for the event in Hungary.
Comments will be moderated. Keep comments relevant to the article. Remarks containing abusive and obscene language, personal attacks of any kind or promotion will be removed and the user banned. Final decision will be at the discretion of the Taipei Times.