Researchers pull live pups from two tiger sharks found in nets
AGGRESSIVE SPECIES: The two litters are to be kept under observation at a government facility, where they are being fed a diet of white shrimp, an official said
The Fisheries Research Institute's East Coast Marine Biology Center in Taitung on Monday and Tuesday saved two litters of shark pups from two separate pregnant female tiger sharks found off the coast of Taitung County.
Expressing the hope that the sharks can be returned to the wild, the center said it would mark the sharks with a "T" so that if they are re-caught the center can learn more about their migratory habits.
Center research assistant Wu Jui-hsien (吳瑞賢) said that a tiger shark was found on Monday off the coast of Taitung County's Sansiantai (三仙台) in a fixed net that weighed 500kg, and as it was found alive, its litter of 38 shark pups was delivered in sound health.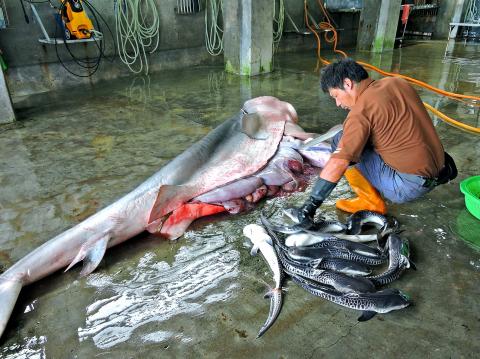 A man in Taitung County's Changbin Township on Tuesday pulls shark pups from a dead tiger shark after she was caught in a stationary fishing net.
Photo: Chang Tsun-wei, Taipei Times
The center placed the pups in an artificial pond and measured their weights and lengths, Wu said, adding that the pups ate their first meal on Monday afternoon.
The center on Tuesday afternoon received reports that another tiger shark had been found off Taitung County's Changbin Township (長濱), Wu said, adding that by the time they arrived the mother had died.
Thirty-seven pups were extracted in a caesarian section, but despite the center's efforts, due to their premature birth and a lack of oxygen, seven died by that evening, the center said.
Wu said that the center's previous attempts to help sharks deliver their young via surgery had mostly ended in failure due to the asphyxiation of the pups during the process.
The center's director, Ho Yuan-hsing (何源興), said that the two sharks probably became tangled in fixed nets after swimming closer to shore to give birth.
The two litters are to be kept under observation and the center would continue to feed them white shrimps, Ho said, adding that if circumstances permit the pups wil will be released back into the wild.
The tiger shark is classed as "near threatened" by the International Union for Conservation of Nature and Natural Resources.
It is listed along with the great white shark and the bull shark as one of the three most aggressive shark species.
Comments will be moderated. Keep comments relevant to the article. Remarks containing abusive and obscene language, personal attacks of any kind or promotion will be removed and the user banned. Final decision will be at the discretion of the Taipei Times.