Ministry grim over fraud suspects in Kenya
BE PREPARED: he fate of five Taiwanese due to be sentenced in Kenya over a 2014 telecoms scam is uncertain as Nairobi has been evasive under pressure from China
The Ministry of Foreign Affairs yesterday expressed pessimism over the fate of five Taiwanese fraud suspects awaiting a verdict in Kenya, saying that communication between Taipei and Nairobi has been patchy.
Minister of Foreign Affairs David Lee (李大維) made the remarks at a meeting of the legislature's Foreign Affairs and National Defense Committee, which was held to review the achievements of the nation's participation in this year's World Health Assembly (WHA) in Geneva, Switzerland.
Some lawmakers shifted their focus to the fraud suspects after local media reports earlier in the day said that the government's efforts to secure the return of the five following a pending court verdict on Monday next week have been futile due to pressure from China.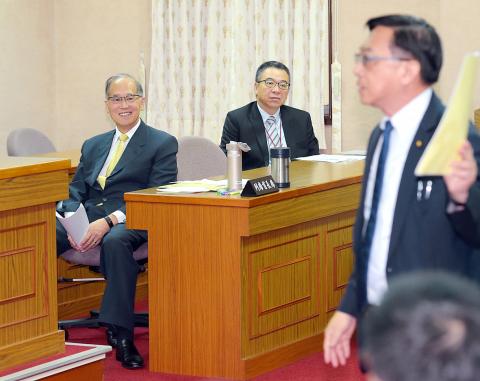 Minister of Foreign Affairs David Lee, left, and Deputy Minister of Health and Welfare Ho Chi-kung yesterday attend a meeting of the Foreign Affairs and National Defense Committee at the Legislative Yuan in Taipei.
Photo: Huang Yao-cheng, Taipei Times
Responding to questions from Democratic Progressive Party Legislator Wang Ting-yu (王定宇), Department of West Asian and African Affairs Deputy Director-General Alexandre Cheng (鄭維) said Representative to South Africa John Chen (陳忠) and a Ministry of Justice-affiliated secretary arrived in Nairobi yesterday in the hope of presenting the government's stance to Kenyan authorities before the ruling is issued.
"However, things have not gone well so far," Cheng said, adding that the Kenyan court could either hand down a final verdict or rule to continue to hear the case on Monday.
Asked about the likelihood of the five also being deported to China, Lee said that the foreign ministry's communications with Kenya have not been smooth due to the absence of a representative office in that nation.
"Given that Kenya is also a country marred by uncertainties, we cannot be sure how this case will ultimately turn out," Lee said.
The five Taiwanese are among a group of 77 fraud suspects — 48 Chinese, 28 Taiwanese and one Thai — apprehended by Kenyan police in November 2014 and indicted on charges of unlicensed telecom activities, unlicensed use of radio equipment and organized crime.
Twenty-three of the Taiwanese were forcibly deported to Beijing following their acquittal by the court on April 5. Shortly afterward, 22 and 32 more Taiwanese arrested on similar charges between March and April in Kenya and Malaysia respectively also experienced the same treatment.
Department of West Asian and African Affairs Director-General Chen Chun-shen (陳俊賢) told a news conference that the nation should "prepare itself" for the worst possible outcome for the five Taiwanese because the amount of pressure exerted by China over the case has been immense.
"We have sought to communicate with Kenya by ourselves and through third parties, including some of our friendly allies and nongovernmental organizations such as Amnesty International and Human Rights Watch, but Nairobi has always remained evasive," Chen Chun-shen said.
Turning to a similar case in Turkey, Chen Chun-shen said it was later determined that a total of 51 Taiwanese and 30 Chinese nationals — rather than just 52 Taiwanese as previously reported — were arrested by Turkish police on Friday last week for allegedly installing hidden cameras at ATMs.
"The 51 Taiwanese, including four minors, have been released after the first session of questioning. We are doing everything in our power to ensure their return to Taiwan after due legal processes in Ankara," he added.
Chen Chun-shen said the Turkish case is different from those in Kenya and Malaysia because instead of affecting only Chinese, preliminary case evidence suggests that the victims include both Chinese and Taiwanese, and might even involve Turkish.
As such, China's usual pretext that the Taiwanese fraud suspects have to be deported to Beijing instead of to Taipei because all the victims are Chinese might not apply in this case, he said.
Comments will be moderated. Keep comments relevant to the article. Remarks containing abusive and obscene language, personal attacks of any kind or promotion will be removed and the user banned. Final decision will be at the discretion of the Taipei Times.