Justice minister seeks changes to judiciary
NO TOLERANCE: Chiu Tai-san said that the ministry would remove prosecutors and judges who have abused their positions or demonstrated questionable behavior
Minister of Justice Chiu Tai-san (邱太三) yesterday said he would not allow the judiciary to be manipulated by any political party, adding that he was seeking ways to institute changes to restore the public's faith and trust in the judicial system.
"I will not allow the judiciary to become a tool for political manipulation," he said in a media interview. "The Democratic Progressive Party [DPP] has always opposed any political interference in the nation's judicial system."
Chiu said he wanted to make assurances to all Taiwanese that there is no political motivation behind cases related to former president Ma Ying-jeou (馬英九), and that any proceedings that are brought against Ma would be conducted according to the law.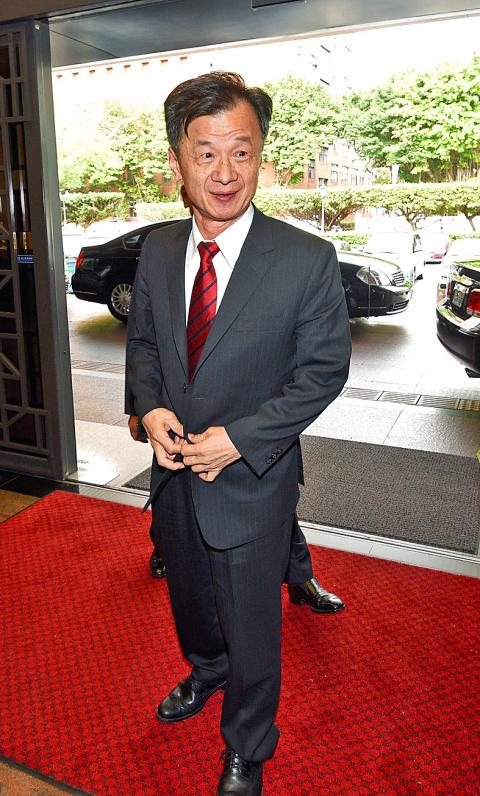 Minister of Justice Chiu Tai-san arrives at the Ministry of Justice on Saturday.
Photo: Lo Pei-te, Taipei Times
Ma is facing 24 lawsuits and a pending judicial probe on allegations of corruption, leaking state secrets, failure to declare assets, and other charges.
"People have said that they had heard from some prosecutors and judges, who worried that the judiciary would become a political tool after the new government took over," Chiu said.
"From what I know, more than 70 percent of officials in the judiciary are not with the pan-blue camp, but they definitely do not like the pan-green camp either. Therefore, the DPP has no ability to manipulate the judiciary, and we have always opposed such handling of the system," he said.
Chiu said he is aware that people do not trust the justice system.
"Judicial officials should ask themselves: 'Why do we have this situation?'" he said. "It is common for citizens facing a lawsuit to try and find out first if the judge and the prosecutor take bribe money. In public talks, there are judges and prosecutors who are known to attend lavish banquets and entertainment at nightclubs, and to take bribes when offered. This is why in our society it is a common belief that one can buy your way out of criminal prosecution."
The ministry would remove prosecutors and judges who have abused their positions or conducted themselves in questionable ways, Chiu said, adding that evaluation and supervisory responsibilities would fall to chief prosecutors in local districts.
"Chief prosecutors who head up their offices must increase their work duties to include monitoring the prosecutors under their charge, to check that they are following rules on ethics and [hand down] proper disciplinary measures," he said. "If a prosecutor has engaged in illegal activities, then their [supervising] chief prosecutor will be affected at their yearly evaluation."
"I will support whistle-blowers who report any wrongdoings by judges or prosecutors, and will promote other ways to cut down on violations of professional conduct and on financial irregularities by officials of the judiciary," he added. "We must not allow a few rotten apples to spoil the barrel."
Comments will be moderated. Keep comments relevant to the article. Remarks containing abusive and obscene language, personal attacks of any kind or promotion will be removed and the user banned. Final decision will be at the discretion of the Taipei Times.