Landowners damage archeological site
NO PROTECTION: Archeologists have called for the Nioupu site, believed to be a 4,000-year-old jade-working center, to be protected since 1995, but no action has been taken
Substantial portions of a 4,000-yearold Nioupu culture archeological site (牛埔遺址) in Changhua County — which houses vestiges of early human life — were reportedly damaged by landowners.
Large tracts of ancient houses and walls were yesterday found to have been leveled by landowners who bought plots on the land from previous owners.
The site, which is peppered with stone tools and ceramics, is believed by archeologists to be an ancient jade-working center.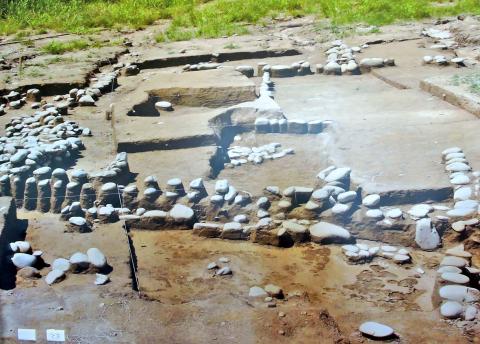 The remains of a 4000-year-old historical site discovered by archeologists from the National Museum of Natural Science in 2009 is pictured yesterday.
Photo provided by the National Museum of Natural Science
Archeologists said they discovered the site in 1992 and carried out eight test excavations, during which they found traces of three other prehistoric cultures — Dabenkeng (大坌坑), Nioumatou (牛罵頭) and Yingpu (營埔) — at the bottom level of the site.
Archeologists said that they first advocated for the site to be designated a historic site in 1995, and in 2008 urged the Changhua County Department of Cultural Affairs to register the site as a national historic site, but those demands fell on deaf ears.
In 2009, National Museum of Natural Science assistant archeologist Liu Ke-hung (劉克紘) excavated large numbers of houses and walls elaborately built with pebbles, which he believed were signs of early human settlements.
A person on May 20 holds up approximately 4,000-year-old shards of pottery that can still be found on the ground at a site discovered by archeologists from the National Museum of Natural Science in 2009.
Photo: Lin Liang-che, Taipei Times
His findings also included a dozen pieces of cut jade identified as having been sourced from Hualien's Fengtien Village, with the largest piece measuring 30cm in length.
Large numbers of stone chisels and axes were also discovered on the site.
Experts believe that the site was a distribution center for jade sourced from the east coast being sold in the west of Taiwan.
As the site has never been granted historic status, it was sold as real estate, and the relics suffered serious damage, archeologists said.
Liu and Hualien County Councilor Lin Shih-hsien (林世賢) carried out an inspection of the site and found an extensive area of land that had not been excavated, which led Liu to believe that the archeological site still has great potential.
Liu said that an excavation is desperately needed to salvage the artifacts buried underground.
Lin said that the Nioupo site is the most important archeological site in the county.
Lin criticized the county government's inaction on declaring the site historically significant, which would have granted it protection under the Cultural Heritage Preservation Act (文化資產保存法).
He said that he would demand that the department immediately move to designate the site a county historic site, or file an application with the Ministry of Culture to make it a national historic site.
Department Commissioner Wu Lan-mei (吳蘭梅) said that she would include the site to a cultural heritage review and contact landowners shortly.
Wu said that the department would carry out test excavations on the site to determine the scope of artifacts' distribution for it to be designated a historic site.
Comments will be moderated. Keep comments relevant to the article. Remarks containing abusive and obscene language, personal attacks of any kind or promotion will be removed and the user banned. Final decision will be at the discretion of the Taipei Times.