Group protests use of GM beans
MARCH AGAINST MONSANTO: The protest was part of an international movement against the multinational producer of GM seeds and glyphosate-based herbicides
Consumer groups yesterday protested against the use of genetically modified (GM) soybeans as human food, saying less than 3 percent of soybeans on the market are natural and urging the government to ban GM food for human consumption to prevent potential health risks.
The protest in front of the Legislative Yuan was part of the March Against Monsanto, an international movement against the multinational producer of GM seeds and glyphosate-based herbicide.
Members of the Homemakers United Foundation performed a skit showing how GM crops produced by Monsanto could withstand herbicides the company manufactured, while other "natural" plants and weeds withered when exposed to the herbicides.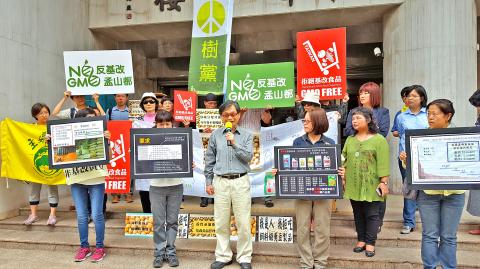 Activists protest against genetically modified soybeans and herbicides produced by US agrochemical company Monsanto in front of the Legislative Yuan in Taipei yesterday, calling for mandatory labeling laws for feed-grade soybean imports.
Photo: Chen Wei-han, Taipei Times
"Nearly 98 percent of Taiwan's soybean imports are GM products according to Food and Drug Administration statistics. However, Japan, which is also a leading soybean importer, prohibits GM beans from being used as human food. The government should learn from Japan and limit the use of GM soybeans to protect public health," Democratic Progressive Party (DPP) Legislator Frida Tsai (蔡培慧) said.
The incidence of food allergies in children has increased from 8 percent 20 years ago to 50 percent today, which has been associated with the consumption of GM food products, Chang Gung University toxicology professor Lin Chung-yin (林中英) said.
Many food additives, such as syrup and thickening agents, are made with GM organisms, so it is highly recommended that the government ban GM products as human food, Lin said.
National Taiwan University agronomy professor Warren Kuo (郭華仁) said most imported soybeans are not food-grade beans, but a mixture of feed-grade beans and beans used to produce oil, all of which are genetically modified and fed to the public.
"People do not know they are eating feed-grade beans because of the lack of mandatory labeling laws on such beans. Feed-grade GM beans contain lower protein content, but are high in glyphosate, a widely used herbicide that is possibly carcinogenic," Kuo said.
The nation requires feed-grade corns, but not feed-grade soybeans, to be labeled, Kuo said, calling for the mandatory labeling of beans.
The maximum residue limit for glyphosate in soybeans is 10 part per million (ppm), which is 100 times higher than the glyphosate limit for rice at 0.1ppm.
"The glyphosate limit for soybean is set based on the American and European standards at 20ppm, but soybean is a staple food in Taiwan, so the limit should be substantially lowered," Kuo said.
A recent US trade report took Taiwan's mandatory labeling of GM food products and a ban on GM products from school lunches as a trade barrier, and the government might yield to US pressure in future negotiations, so the public must stand more firmly against GM organisms, DPP Legislator Lin Shu-fen (林淑芬) said.
Comments will be moderated. Keep comments relevant to the article. Remarks containing abusive and obscene language, personal attacks of any kind or promotion will be removed and the user banned. Final decision will be at the discretion of the Taipei Times.