Taiwan's orchids shine at tulip festival in Ottawa
Orchids from Taiwan have become a big draw at this year's Canadian Tulip Festival, which opened on Thursday last week and runs through Monday next week in Ottawa.
This marks Taiwan's return to the festival after a 10-year hiatus.
The Taiwanese pavilion is decorated with 120 pots of moth orchids in 12 different colors, 24 pots of tulips and a canoe built by Orchid Island's (蘭嶼, also known as Lanyu) Tao Aborigines.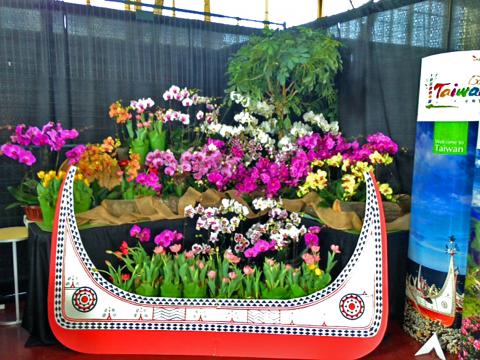 Orchids from Taiwan are shown on Sunday at the Canadian Tulip Festival, which runs until Monday in Ottawa.
Photo courtesy of the Taipei Economic and Cultural Office in Canada
Attracted by the beautiful decorations, many visitors stopped in front of the pavilion to take photographs.
Ottawa Mayor Jim Watson gave high praise to Taiwan's high-quality orchids when he visited the pavilion.
Canadian MP Ahmed Hussen and his wife also spent some time at the pavilion and Representative to Canada Wu Rong-chuan (吳榮泉) took the opportunity to promote Taiwan's orchids, telling them the nation hosts the Taiwan International Orchid Show annually in Tainan and that the 23rd World Orchid Conference is to be held in Taiwan in 2020.
The Taiwanese pavilion is also holding flower arranging, tea art and paper-cutting activities, and folkgame performances during the festival.
The Canadian Tulip Festival was founded in 1953 to commemorate the significance of the tulip and its World War II connection in Canada, the organizer said.
During the war, Princess Juliana of the Netherlands and her children lived in exile for five years in Ottawa. It was also during this period that she gave birth to Princess Margriet.
After her return to the Netherlands in May 1945, Princess Juliana presented to the people of Canada a number of gifts, including 100,000 tulip bulbs, as a show of gratitude for her stay in Canada and for the Canadian soldiers' role in the liberation of her homeland.
The following year, an additional 20,500 bulbs were sent to Canada.
Juliana, who became queen of the Netherlands in 1948, continued to send a gift of thousands of tulip bulbs to Canada each year during her reign, which ended with her abdication in April 1980 and the beginning of the reign of Queen Beatrix.
Today, the festival has become the largest of its kind in the world, attracting more than 500,000 visitors annually, the organizer said.
Comments will be moderated. Keep comments relevant to the article. Remarks containing abusive and obscene language, personal attacks of any kind or promotion will be removed and the user banned. Final decision will be at the discretion of the Taipei Times.