End pro-unification supporter's subsidies: councilor
Pro-unification Concentric Patriotism Association executive director Chang Xiuye (張秀葉) refuses to work and spends her time stirring social disorder, so she should not receive the monthly subsidies which the Taipei City Government grants low-income families, Taipei City Councilor Liu Yao-jen (劉耀仁) of the Democratic Progressive Party (DPP) said yesterday.
Liu said at a Taipei City Council question-and-answer session that Chang, a Chinese who became naturalized through marriage, receives NT$13,215 in monthly subsidies, including NT$6,115 to cover college tuition fees for her 19-year-old son.
The Taipei Department of Social Welfare said that families with a monthly per capita income of less than NT$15,162 are eligible for the subsidies.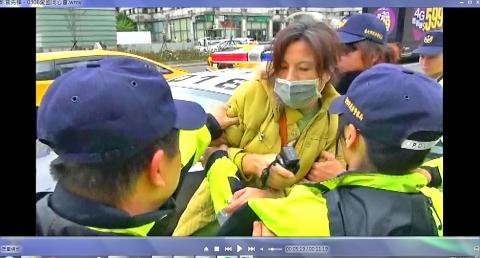 Pro-unification Concentric Patriotism Association executive director Chang Xiuye, center, resists arrest in Taipei in this screengrab of a report on March 6 last year.
Photo: Chiu Chun-fu, Taipei Times
Liu played footage of a spat between Chang and Falun Gong practitioners in front of Taipei 101, in which Chang allegedly dared some Falun Gong members she physically assaulted to sue her and shouted insulting remarks.
"Ten Xinyi Police Precinct chiefs could not stop me," Chang reportedly said in the video, in reference to the resignation of former Xinyi Police Precinct chief Lee Te-wei (李德威), who resigned after Taipei Mayor Ko Wen-je (柯文哲) said that he had not enforced the law when dealing with association members who assaulted Falun Gong practitioners gathered in front of the building and threatened to fire him.
Chang frequently provokes Falun Gong members and police officers and she injured a Changhua resident who was sightseeing in Taipei, who required hospital treatment, Liu said.
"Should the dregs of society like her be granted subsidies? As a Chinese woman married to a Taiwanese, her arrogance and defiance have gone too far," Liu said.
"She is neither disabled nor old. If she held an ordinary job, would her monthly salary be lower than NT$15,162?" Liu asked.
Liu said that many Chinese women who marry Taiwanese men file for divorce and seize custody of their children immediately after they are granted citizenship, adding: "Many of them receive subsidies, despite earning hundreds of thousands working at night."
Liu demanded that Department of Welfare Commissioner Hsu Li-min (許立民) improve the verification process regarding applicants' assets before doling out subsidies.
Hsu said that the department would launch a probe into recipients' assets with the assistance of borough executives, and disqualify any recipient found to have submitted untruthful financial statements.
Comments will be moderated. Keep comments relevant to the article. Remarks containing abusive and obscene language, personal attacks of any kind or promotion will be removed and the user banned. Final decision will be at the discretion of the Taipei Times.