Naming of hall after Chiang Ching-kuo slammed
Several political victims' support groups yesterday petitioned Legislative Speaker Su Jia-chyuan (蘇嘉全) over President Ma Ying-jeou's (馬英九) decision to name an assembly hall in the Presidential Office Building after former president Chiang Ching-kuo (蔣經國).
Su quoted Formosan Political Prisoners Association honorary director-general Tsai Kuan-yu (蔡寬裕) as saying in a closed-door meeting that the association wants Ma's decision revoked because it deems Chiang to be a perpetrator in the Martial Law era, adding that he should be held accountable for serious human rights violations during the Chinese Nationalist Party's (KMT) period of authoritarian rule.
When it was announced on March 29 that the hall would be named after Chiang, a Presidential Office official said the move was to "give people a better understanding of Chiang's contributions to the nation."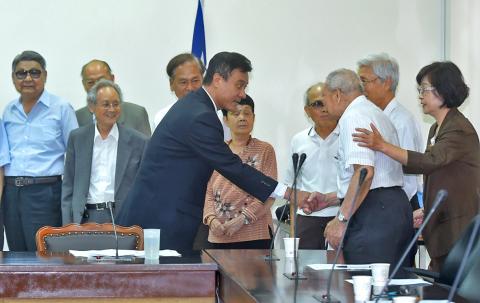 Legislative Speaker Su Jia-chyuan, left, yesterday shakes hands with victims of political persecution during the Martial Law era at the Legislative Yuan in Taipei.
Photo: Chien Jung-fong, Taipei Times
Before yesterday's meeting, the groups provided the media with copies of several official documents from the Martial Law era showing Chiang's signature on papers and reports on the rulings of political victims that were then handed to Chiang Kai-shek (蔣介石) for approval.
Human rights activist Chen Ming-cheng (陳銘城) cited the case of a person called Wang Te-wen (王德文), who was named as a "bandit spy" in one of the papers.
Wang was originally given a 15-year jail sentence, but Chiang Kai-shek wrote next to the ruling: "Why has this person not been executed," and his fate was changed.
Wang did not have relatives in Taiwan, and his tomb is in Taipei's Liuzhangli Public Cemetery (六張犁), which has been made into a memorial park.
A joint statement by the groups said that Chiang Ching-kuo played a major role in the authoritarian government's intelligence department and after 1950 he was the head of the intelligence system.
"The National Security Bureau had, at least until the end of the 1960s when Chiang [Ching-kuo] was the minister of national defense, still been handing investigation reports related to political cases to Chiang [Kai-shek] for his approval," it said.
The groups said that Ma should revoke the naming, and if not, president-elect Tsai Ing-wen (蔡英文) should do it after she takes office on Friday next week.
The groups also criticized Premier Simon Chang (張善政), who on Wednesday said: "How much could transitional justice increase Taiwan's GDP?"
The groups said that the spirit of redressing past human rights violations and facing history head-on is never profit-oriented.
"It is the democratic DNA, not GDP, that transitional justice is after," groups said.
Additional Reporting by CNA
Comments will be moderated. Keep comments relevant to the article. Remarks containing abusive and obscene language, personal attacks of any kind or promotion will be removed and the user banned. Final decision will be at the discretion of the Taipei Times.