Flying fish controls spark debate
COLLATERAL DAMAGE: Cruise operators said they were at a loss being involved in the conflict, after fishermen threatened to block tourist boats to Lanyu
Fishing restrictions have been imposed around Taitung County's Orchid Island (Lanyu, 蘭嶼) to protect the island's flying fish culture, giving rise to conflict between local residents and Pingtung County fishermen, with a township official vowing not to yield on the restrictions and Aboriginal tradition.
To protect Lanyu fishermen's rights during the flying fish season, the Council of Indigenous Peoples announced a ban on fishing boats of more than 10 tonnes coming within 6 nautical miles (11.1km) of Lanyu from March to June — the flying fish season — while prohibiting the use of destructive fishing methods such as drift gill nets, push-netting, blast fishing and fishing with poison.
The Taitung County Government announced a separate ban, prohibiting non-local fishing boats from operating within 3 nautical miles of Lanyu from February to July, as well as a prohibition on motor-powered fishing boats of more than 10 tonnes catching flying fish within 6 nautical miles of Lanyu, while boats under 10 tonnes are prohibited from using jet skis or high-speed vessels to chase flying fish.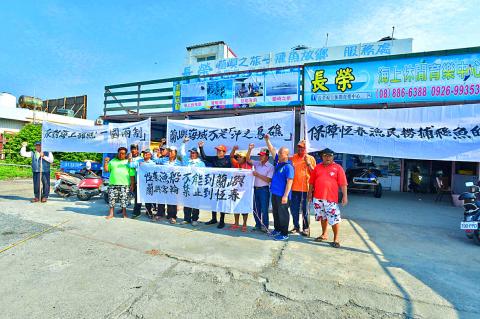 Fishermen led by Hengchun Township Mayor Lu Yu-tong on Thursday hold banners at Houpihu Harbor in Pingtung County to protest against restrictions on fishing around Lanyu (Orchid Island) in Taitung County.
Photo: CNA
The restrictions sparked protests from Pingtung fishermen, who said their fishing rights were affected, with fishermen at Houpihu (後壁湖) in Pingtung's Hengchun Township (恆春) threatening to block tourists from boarding vessels traveling between Houpihu and Lanyu.
Lanyu Township Mayor Syaman Karamu said they would never compromise on the fishing restrictions despite the threat.
"The entire Tao culture is structured around flying fish, without which the lifestyle and ecosystem of the island would be changed dramatically. So I insist that there can be no changes to the flying fish tradition," he said.
"Protecting Lanyu fisheries cannot be limited to banning fishing boats from outside the island, and Lanyu residents have to discuss how to regulate diving activities," Taitung County Councilor Huang Tien-te (黃天德) said.
Migrating flying fish swim near the shore, so a 6 nautical mile fishing ban affects Pingtung fishermen's operations, but the livelihood of Lanyu residents and the Lanyu culture depend on harvesting flying fish in this time of the year, so the government should help Lanyu and Pingtung fishermen communicate with each other to reach a compromise, the Singang Fishermen's Association in Taitung County's Chenggong Township (成功) said.
Cruise operators said they were at a loss being involved in the fishing conflict, adding that they do not engage in fishing activities and do not have a say on fishing businesses, calling on the government to step in and help ease the tension.
Comments will be moderated. Keep comments relevant to the article. Remarks containing abusive and obscene language, personal attacks of any kind or promotion will be removed and the user banned. Final decision will be at the discretion of the Taipei Times.