FEATURE: Painful letters from the past for White Terror families
SIMPLE DEMAND: Hsu Hsu-mei, who is 71 years old, said she found out from the letter her father wrote before his execution that he only wanted justice for society
Growing up in Taiwan under martial law, Hsu Hsu-mei (許須美) knew almost nothing about her father, only that he was executed for being a "thought criminal."
She was five years old when her father, Hsu Chiang (許強), a doctor, was taken away on espionage charges during the White Terror political purge by the then-Chinese Nationalist Party (KMT) regime.
Decades later Hsu Hsu-mei is finally learning more about his death from a "confession letter" her father wrote just before he was executed.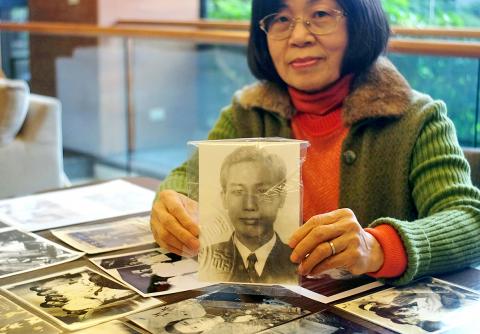 Hsu Hsu-mei on March 25 in Taipei holds up a portrait of her father, Hsu Kiang, a doctor at Taiwan University, who was executed on espionage charges during the White Terror era.
Photo: Sam Yeh, AFP
She is one of many White Terror relatives only now putting together the missing pieces of their loved ones' lives as official files gradually open up.
The letter was discovered in government archives.
Thousands labeled as "anti-government" were tortured and killed during the White Terror era under the rule of nationalist leader Chiang Kai-shek (蔣介石), whose KMT fled to Taiwan after it was defeated by Mao Zedong's (毛澤東) Chinese Communist Party.
"My mother never told me any details [about my father]. She would only say he was a thought criminal," said Hsu Hsu-mei, now a 71-year-old grandmother.
The letter finally shed light on why he had risked his life for his beliefs by joining a communist organization.
"It was utterly disappointing to see the oppression of the Taiwanese people ... the corrupt, inept ways of officials," he wrote.
"The large hospitals cater to the wealthy ... regular citizens cannot even get seen by a doctor," he wrote.
Hsu Hsu-mei said she learned her father's greatest wish was simply for a fairer system and to improve lives through medical research.
"He really just wanted justice for society," she said.
Official records state about 140,000 people were tried by military courts during the White Terror era, with between 3,000 and 8,000 executed. Many believe the actual numbers are higher.
Since the end of martial law, Taiwan has evolved into a democracy and a new Democratic Progressive Party (DPP) government is to take power on May 20, after the KMT were trounced in presidential and legislative elections.
The DPP has its roots in the political movement that opposed Chiang's dictatorship.
President-elect Tsai Ing-wen (蔡英文) has pledged to bring justice to White Terror victims and fully publicize records from the period.
Since the founding of the National Archives in 2001, there have been steps by previous governments to give access to files from the period, whether to families, historians or the general public.
The National Archives department said it has uncovered about 800 pages of personal letters written by 179 victims and has proactively contacted their relatives.
To date, letters from 106 of the victims have been returned, a spokeswoman said.
However, relatives said retrieving documents can be a lengthy and complex process, while campaigners said there has not been a concerted effort to gather and analyze disparate information from the era.
They want new legislation to coordinate that effort and to release documents to the public, as part of a more complete investigation into the repression. They also want former nationalist leaders to account for their suppression.
"Taiwan needs to come to a conclusion on what responsibilities Chiang needs to bear and how he should be portrayed in the people's eyes," said Huang Cheng-yi (黃丞儀), chairman of the Taiwan Association for Truth and Reconciliation (TATR), which has helped families track down the letters.
"He does not deserve to be put on a pedestal," Hsu Hsu-mei said, adding that memorials named after the former leader should be changed and his statues removed.
Kuo Su-chen (郭素貞) was less than three years old when police came to her home to arrest her father, elementary-school principal Kuo Ching (郭慶). He had kept his family in the dark about his communist links.
Speaking about him after his death was taboo and her family burned most of his memorabilia for fear of their own safety, Kuo Su-chen said.
However, she still felt an affection for the father she never really knew.
"I could not admit or accept that my father was a so-called villain," said Kuo Su-chen, 69.
Through the help of TATR, she discovered unsent letters he had written right before his execution.
They were brief sentences, but finally gave her the connection she craved.
"One will eventually die, please do not be overly saddened," he wrote to his wife. "If possible, I hope you will remarry."
"When I finally saw the letters, it confirmed that I had a father and he cared about us," Kuo Su-chen said.
"They should have been returned to us a long time ago," she said.
After a battle with the government, who said they were classified, Kuo Su-chen also obtained photos of her father and other rope-bound victims, taken before and after they were executed.
Kuo Su-chen now sees her father as a man standing up to an "inhumane" regime.
"He dreamed of a better society... I believe that is what he was chasing after," she said.
Comments will be moderated. Keep comments relevant to the article. Remarks containing abusive and obscene language, personal attacks of any kind or promotion will be removed and the user banned. Final decision will be at the discretion of the Taipei Times.