French priest upbeat on finding money to finish nursing home
A project spearheaded by a French priest to build a nursing home in Hualien County is facing a big shortfall in funding, but it is to go ahead with a groundbreaking ceremony this week as efforts to raise money continue, the priest said yesterday.
The groundbreaking ceremony for the new facility, which is projected to cost NT$80 million (US$2.47 million) to build, is to be held tomorrow as scheduled, French Catholic priest Yves Moal said.
The nursing home needs about NT$50 million to be completed, but Moal said he is optimistic that the money will be found.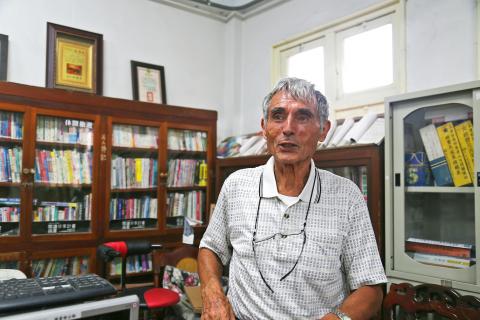 French Priest Yves Moal yesterday talks to reporters in Hualien County's Yuli Township.
Photo: CNA
Fundraising is to continue as construction proceeds, said the 74-year-old priest, who has been devoted to humanitarian services since he came to Taiwan about 50 years ago.
Moal has been in charge of St Andrew Training Center for the Disabled in Hualien County's Fuli Township (富里) for 17 years.
With the center taking on more young people with disabilities, a new nursing home is needed to better care of adult residents, he said.
As part of Moal's efforts to raise funds, he said he wrote a letter to President Ma Ying-jeou (馬英九) last week to ask for the president's assistance.
The Presidential Office sent former Taiwan High Speed Rail Co chairman Ou Chin-der (歐晉德) to meet Moal and express the government's willingness to provide funds to cover the costs of construction materials, the priest said.
Further details have yet to be worked out, Moal said.
"I am confident of building the facility. Taiwanese people have a good heart," he said.
Moal was awarded a Presidential Culture Award in the humanitarian category last year in recognition of his efforts to care for physically and mentally challenged people, the homeless, orphans and other underprivileged groups in Hualien County.
Moal was also commended for helping preserve Aboriginal cultures and languages by compiling a Bunun-French dictionary, and English and French glossaries for the Amis language.
Comments will be moderated. Keep comments relevant to the article. Remarks containing abusive and obscene language, personal attacks of any kind or promotion will be removed and the user banned. Final decision will be at the discretion of the Taipei Times.