Fisheries Flare-up: Cross-strait ties Taiwan's 'ace': Su
CHINA CARD: Su Chi said that Tsai's administration lacks communication channels with China, and the situation is set to become more dangerous after her inauguration
The recent detention of a Taiwanese fishing boat by Japanese authorities has underscored that if Taiwan were to give up the "ace in its sleeve" — improved cross-strait relations — it would be accorded less dignified treatment, a former national security official said on Saturday.
Former National Security Council secretary-general Su Chi (蘇起) said that Japan's attitude toward Taiwan is a warning signal to president-elect Tsai Ing-wen (蔡英文) and the incoming Democratic Progressive Party (DPP) administration.
Su said that a comparison of Japan's behavior over the recent incident and a similar one eight years ago is an indication of how Taiwan would be treated if cross-strait relations deteriorate.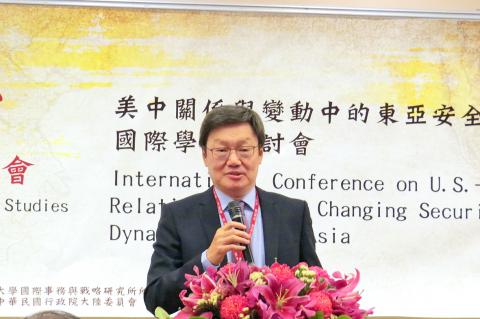 Former National Security Council secretary-general Su Chi speaks at a conference at Tamkang University in Taipei on Saturday.
Photo: Chen Yu-fu, Taipei Times
He was referring to Japan's detention on Monday last week of a Taiwanese fishing boat east-southeast of Okinotori, an atoll in the Pacific Ocean that belongs to Japan.
Taiwan maintains that Okinotori is no more than a reef, and that the Taiwanese vessel was operating on the high seas rather than in waters within the 200-nautical-mile exclusive economic zone claimed by Japan — which considers the atoll an island.
This is in stark contrast to a similar incident that occurred eight years ago, Su said, referring to a collision between a recreational fishing boat from Taiwan and a Japanese Coast Guard vessel in disputed waters in the East China Sea in June 2008.
Japan later apologized and offered compensation.
Su said that Japan's about-face can be attributed to the international community's assessment that Taiwan wants to give up its biggest advantage — the improvement in cross-strait relations that has taken place during President Ma Ying-jeou's (馬英九) tenure.
If the cross-strait relationship is not in a good state, Taiwan would have to rely on the US and Japan more, even if both countries do not necessarily consider Taiwan to be important, Su said.
China has repeatedly said that the so-called "1992 consensus" is the foundation for cross-strait exchanges, but the DPP has never recognized its existence.
The "1992 consensus" — a term Su admitted making up in 2000 when he was the Mainland Affairs Council chairman — refers to a tacit understanding between the Chinese Nationalist Party (KMT) and the Chinese government that both sides acknowledge there is "one China," with each side having its own interpretation of what "China" means.
Su on Saturday said that Tsai's incoming administration seems to lack communication channels with China, and the situation would become more dangerous after Tsai's inauguration.
Su said that a decrease in the number of Chinese tourists and the elimination of a cross-strait hotline, as well as the delayed arrival of an invitation letter for Taiwan to attend the World Health Assembly annual conference scheduled to take place from May 23 to May 28, indicated the absence of communication.
He urged Tsai to rethink her cross-strait policies and communicate with China for the sake of Taiwan's interests.
"If there is no communication [after May 20], it will make for a precarious situation," Su said, adding that the DPP administration should remember that "wisdom is most important."
Comments will be moderated. Keep comments relevant to the article. Remarks containing abusive and obscene language, personal attacks of any kind or promotion will be removed and the user banned. Final decision will be at the discretion of the Taipei Times.