Chang Ching-sen angers with anti-activist remarks
Minister without portfolio-designate Chang Ching-sen (張景森), who was president-elect Tsai Ing-wen's (蔡英文) policy office executive director, stirred up controversy with comments on Facebook calling activists "pathetic" for having sided with a family who resisted an urban renewal project that demolished their residence, but are now reportedly receiving five apartments in the completed apartment complex.
The post, criticized by activists and politicians alike and deleted soon after it was posted, also prompted a response from premier-designate Lin Chuan (林全) yesterday.
Lin said he wished to remind Cabinet members that "with the change of our positions, every slip of the tongue can cause social distress and lead all our efforts in preparation for future reforms to go up in smoke."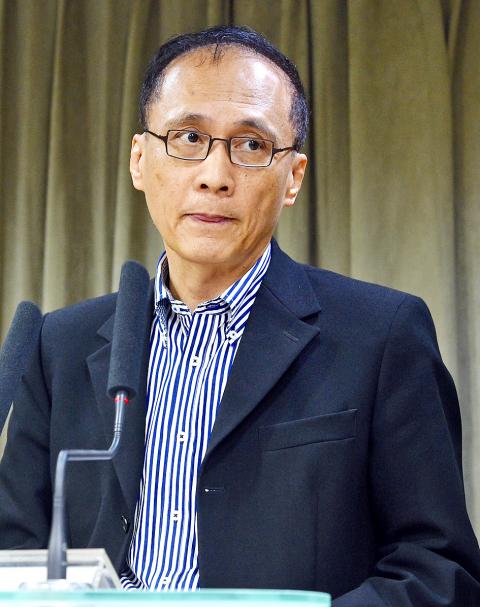 Premier-designate Lin Chuan speaks at a news conference in Taipei yesterday.
Photo: Lo Pei-der, Taipei Times
"Urban renewal has to be done, but it should not be the means for corporations to speculate and rake in profits. The Wenlin Yuan case was so controversial because then-Taipei City Government had become the demolition team of the construction company, which had advertised the project before the dispute was resolved," Lin told a news conference yesterday. "The procedure was indeed flawed."
He said that Chang's remarks "blurred why the project was contentious" since "people's rights, their emotional attachment to their home, democratic procedure and public interest" are things that cannot be measured in terms of money, "and this is what we should always remember."
The controversy stemmed from a Facebook post by Chang on Monday about an ad advertising the Wenlin Yuan (文林苑) urban renewal project in Taipei's Shilin District (士林) that in 2012 met resistance from the Wang (王) family who had refused to be relocated for the renewal and sparked a protest that was joined by scores of activists and students.
"[It was] the most kuso [a term in Taiwanese subculture meaning memed or parodied, but has evolved to indicate something nonsensically funny] activism in history. The Wang family that seemed to have been persecuted by the construction company and the government had a house that was 56.06 ping [185.2m2], but now has been distributed five apartments that total 175.02 ping with a value of more than NT$100 million [US$3.1 million]," Chang wrote.
"Fuck! How pathetic," he wrote. "I meant those highbrow young people who howled for justice and staged candlelight vigils for the family."
Chang soon deleted the Facebook post after it attracted a barrage of criticism.
However, Chang wrote another post saying he had no intention of making fun of the Wang family and the activists," and added: "If the Wang family is still not satisfied with the five apartments they got, I can only say that they are unhappy billionaires. The [2012] protest, in my opinion, has stigmatized urban renewal and halted the city's renewal projects."
The second post was also later deleted.
Sunflower movement leader Lin Fei-fan (林飛帆) on Monday night posted on Facebook: "Do Chang's comments … reflect the new government's stance on housing justice? In other words, [is the government saying] we can tear your house down whether you like it or not, and when we give you some money and housing units in exchange, you must make your kowtows and say: 'Thank you your highness'?"
He called on the Democratic Progessive Party to remove Chang from the future Cabinet, adding: "My second request is to [former Taipei mayor] Hau Lung-bin (郝龍斌) and other Chinese Nationalist Party (KMT) politicians: Shut up. You were the ones who tore down their house."
The Social Democracy Party (SDP) also issued a statement, saying the Wenlin Yuan project was a controversial case that highlighted the unconstitutionality of Article 36 of the Urban Renewal Act (都市更新條例) that grants the government the power to remove designated buildings on behalf of the implementers of the renewal.
"Is mocking those young activists who have always been walking ahead of the DPP the only thing Chang, a DPP-nominated minister without portfolio, can do? Is this what the DPP mean by residential justice?" the SDP statement said.
Cabinet spokesperson-to-be Tung Chen-yuan (童振源) later on Monday said that Chang's personal remarks do not represent the future DPP administration.
Additional reporting by Su Fang-ho
Comments will be moderated. Keep comments relevant to the article. Remarks containing abusive and obscene language, personal attacks of any kind or promotion will be removed and the user banned. Final decision will be at the discretion of the Taipei Times.