White Terror letters put on display
A National Human Rights Museum exhibition featuring 10 undelivered letters composed by people just before their executions during the White Terror era opened at National Taitung University on Monday.
In the White Terror era, many death-row inmates awaiting execution for charges of political offenses wrote letters to their families and gave them to prison guards in the vain hope that they would be delivered, exhibition organizers said.
Instead, the authorities collected the unsent letters and deposited them in a classified government archive. By the time of declassification, some of the letters had been sealed for more than 60 years, organizers said.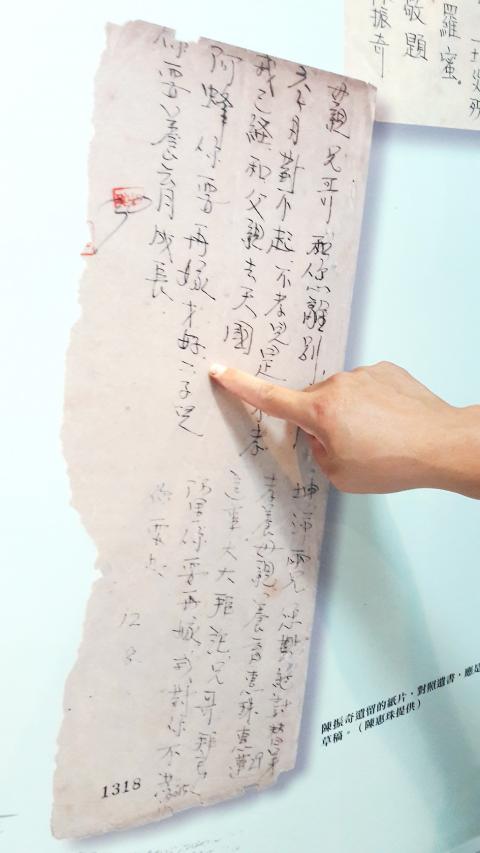 A person on Tuesday points to a letter written by White Terror era victim Chen Chen-chi, which is on display at National Taitung University.
Photo: Huang Ming-tang, Taipei Times
In 2011, the museum completed cataloging the archive, counting letters from 112 prisoners who were executed.
After ensuring surviving family members would receive the letters, the museum chose 10 documents from the archive to use in an exhibition to commemorate White Terror history.
The letters contained final personal messages to loved ones.
Many husbands told their wives they should remarry.
Kuo Ching (郭慶) said in his final message to his wife: "If possible, I would like you to remarry."
Chen Chen-chi's (陳振奇) letter read: "I have followed father to heaven. A-feng (阿蜂), it would be best for you to remarry."
Another husband, Wang Yao-hsun (王耀勳), wrote: "Please wait until our daughter is six years old before remarrying."
Tsai Tieh-cheng (蔡鐵城) addressed his letter to his sister, saying: "I am so sorry. I failed you in my mission as your brother."
Chou Wei (周威), a civics instructor at National Taitung Girls' Senior High School and his class of 30 students were among the visitors to the exhibition on its first day, and the letters moved many of them to tears.
"The exhibition's historical material is useful to help students deepen their understanding of the White Terror era," Chou said.
"It helps them to see the harm to human rights that the state apparatus can inflict when it operates without regard for procedural justice," Chou added.
The exhibition, which was jointly organized with the university, runs through Thursday next week.
Comments will be moderated. Keep comments relevant to the article. Remarks containing abusive and obscene language, personal attacks of any kind or promotion will be removed and the user banned. Final decision will be at the discretion of the Taipei Times.