KMT legislators urge no repeat of deportee release
The Chinese Nationalist Party (KMT) caucus yesterday urged the government to make every effort to avoid a recurrence of the perceived hasty release of 20 Taiwanese fraud suspects recently deported from Malaysia, which it said could impede Taiwan's future obtainment of visa-free privileges.
The caucus held a news conference at the legislature, amid a growing public outcry over the government's handling of the 20 Taiwanese suspects, who were released shortly after their deportation to Taiwan on Friday last week due to a lack of evidence, which is still in China's hands and has yet to be referred to the Taiwanese authorities.
They are among 52 Taiwanese nationals charged with fraud in Malaysia last month.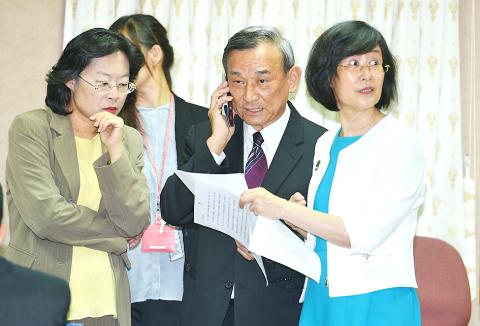 Minister of Justice Luo Ying-shay, right, Deputy Minister of Justice Chen Ming-tang, center, and Department of International and Cross-Strait Legal Affairs Tai Tung-li, left, scramble to prepare information during a chaotic press conference yesterday in Taipei.
Photo: Chang Chia-ming, Taipei Times
"Many lawmakers had strongly demanded that the government defend its jurisdiction over Taiwanese nationals and the nation's sovereignty. Then, without evidence, the government set these suspects free after their return. Where is the justice in this?" KMT caucus whip Lin Te-fu (林德福) told the press conference.
Such an incident could have disastrous ramifications for the country, Lin said, adding that should there be any future recurrences, no other countries would dare to grant Taiwan visa-waiver status.
Currently, there are more than 100 Taiwanese nationals who have already been sentenced or are being tried on fraud charges in several countries, such as Indonesia, Egypt and South Korea, Lin said, urging the government not to allow their return before being sent evidence.
KMT Legislator Lee Yan-hsiu (李彥秀) said the government must work to strengthen cross-strait cooperation under the 2009 Cross-Strait Joint Crime-Fighting and Judicial Mutual Assistance Agreement (海峽兩岸共同打擊犯罪及司法互助協議) to ensure that "criminals get what they deserve."
"We must not let Taiwan descend into a haven for fraudsters, nor see it become a major export of swindlers to the world," she said.
"The Democratic Progressive Party (DPP) and the New Power Party have been shouting empty slogans about human rights and jurisdiction, but in the end, it is our society that pays a huge price," she said.
Lee also expressed concern that the handover of evidence across the Taiwan Strait could be even more difficult should similar cases occur in the future, as cross-strait ties are expected to become more constrained after the new DPP government is sworn in on May 20.
KMT Legislator Lin Wei-chou (林為洲) said there is a possibility that the 20 Taiwanese set free by authorities could flee the country, as the government does not have the legal right to prevent them from leaving.
"If we are unable to carry out the spirit of the Cross-Strait Joint Crime-Fighting and Judicial Mutual Assistance Agreement, such incidents will inevitably be repeated in the future," he said.
Comments will be moderated. Keep comments relevant to the article. Remarks containing abusive and obscene language, personal attacks of any kind or promotion will be removed and the user banned. Final decision will be at the discretion of the Taipei Times.