INTERVIEW: Ko reflects on lessons learned from first year
Taipei Mayor Ko Wen-je's approval ratings have dropped in the polls, but in an interview with Chinese-language 'Liberty Times' (the 'Taipei Times' sister newspaper) staff reporter Chen Hsiao-yi, Ko said that while his policies are headed in the right direction, their priority should be rethought, which would help boost his ratings
Liberty Times (LT): What are your thoughts about the recent drop in your approval ratings?
Ko Wen-je (柯文哲): It is only to be expected. We are a group of su ren (素人, "plain people," ie, not politicians by profession) and that the administrative "team" was hastily slapped together. The upside is the diverseness of the group, but the downside is that such diversity takes time to develop into a cohesive whole.
Among the local governments' administrative teams, we have one that spans both sides of the political spectrum, including deep-blue and deep-green supporters. As such, while Taipei could be said to be the least affected by political strife across party lines, the city's administrative team has also spent a lot of time in our first year "meshing" and "engaging."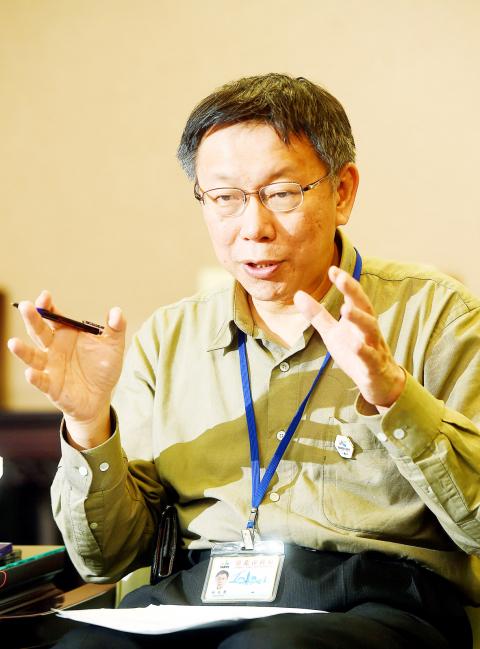 Taipei Mayor Ko Wen-je gestures during an interview with the Chinese-language Liberty Times (the Taipei Times' sister newspaper) on April 8.
Photo: Fang Pin-chao, Taipei Times
Politics requires professionalism. As an individual with no prior political experience, I appointed too many individuals like me as bureau and department heads. The result was that while we are on the right track, but we did not implement our policies in the right order.
The clearest example of this is the policy on biking paths. We set the right goal, but the rhetoric and our implementation were problematic and we also experienced some problems with some of the accompanying measures.
Another example is the slashing of NT$700 million (US$21.64 million) from the budget that had been set aside for elderly residents during the Chongyang Festival.
The city government has been establishing a tiered level of day care, shared meals and daytime activity centers for the social welfare system, and along with this, we are building a framework for social welfare for elderly residents.
If we could redo things, we could outline a vision and provide a written annual plan, as well as explaining why the policy is in place and why the funds were cut. If this had been the case, I think we would not have had such a major backlash.
I have learned from this that politics requires professionalism, and that it has its principles — give first, take later.
The mistakes I made were to take first and give later, which is why I said my ultimate goal was correct, but the methods used to achieve it were not; if I followed political principles, I would have succeeded, but instead I failed.
In short, I deserved the drop in popular support. However, we are reflecting on our faults and seeking to do better. We will not make such mistakes in the future.
LT: In the year or so since you took office, what do you think you have given to Taipei's residents?
Ko: Political belief.
There are those who have asked me what purpose the Taipei City Government serves [in the grand scheme of things] and my answer is that the city government exists only as a platform by which the public and corporations can do their jobs more efficiently. Therefore, what we [as the government] should do is to build up the infrastructure.
Efforts to halt or prevent drug use is an important part [of infrastructure] and I was surprised to find after taking office that there was no specific organization in the city government with such a responsibility. The organizations that deal with it were not official units, but annual contractors.
Over the past year, we have designated the Kunming Hospital's drug prevention center as the facility specifically tasked with anti-drug and addiction prevention efforts, as well as made all of the center's staff officially contracted city employees.
Just writing the regulations for the center took the better part of the year, but it is nonetheless part of the process of building a better foundation.
As for the 46-year-ban on construction on the Shezidao (社子島) peninsula, it is only after I assumed office that I realized why my predecessors had not tried to solve the problem — it is a very thorny issue.
Like the urban renewal projects in the Yongchun (永春) community, every action must be backed by legal regulations, meaning that every issue must be solved directly at its source.
The same issue applies to Shezidao, because it would take a long time to draft legislation and establish corresponding organizations.
Starting in August last year, the city government was notified that all its regulations on the rights and obligations of its residents must follow the standards set by an online version posted by the Ministry of Justice. Since then, the city government had spent nearly eight months compiling and uploading its autonomous regulations, the standard operating procedures (SOP) of departments and bureaus to the Internet.
The city also has plans to establish an online database of all basic files on its laws, and it will be taking the directives of the official notice into mind. This is the transparency we promised. However, even though such actions will not yield any tangible results in the short term, we have to see out the process.
For example, the report on the aftermath of Typhoon Soudelor included an entire list of issues that needed to be addressed, and the city government completed the list within six months.
One of the issue addressed was the establishment of monitoring systems along the Nanshih River (南勢溪), which would warn the city government once the water starts becoming turbid.
That issue, of course, leads to water purification plants' processing, and we established additional regulations for the plants to stop pumping out water once the water was above turbidity levels exceeding 12,000 [nephelometric turbidity units]. How to stop the water from being pumped, of course, requires another set of regulations.
The greatest problem with Taiwanese political culture is that it is shallow and short-sighted. Whenever an incident occurs, the politicians are forced to respond in a very short period of time.
I am against the overall short-sightedness and shallowness of politics and economy. Infrastructure should not be built on a case-by-case basis, but should instead be a long-term, well-thought-out plan.
Although the results of these efforts cannot be seen in the short term, they will be evident in the long run. I refuse to implement policies that would foster several bright spots, because I believe that only by pooling small advancements by individuals can society take a large step forward.
I have implemented this policy in the city government meetings, where I ask officials to think and reflect on where they have not performed to standard and, most importantly, if they had a second chance, how would they improve their responses?
Every improvement from every small department and bureau will make the city government more effective. To implement reforms in everyday work and to refrain from leaping at short-term accomplishments so we can hold true to our ideals — this is a value that I will not change.
LT: There has been a high rate of government officials quitting during your first year. What are your thoughts about the allegations that your leadership might be problematic?
Ko: This is another thing that we have been thinking of improving upon. Why is it that the leader who installed extracorporeal membrane oxygenation [ECMO] technology and the head of successful surgical teams experienced leadership problems when he was transplanted to the city government? [Ko was an ECMO expert at National Taiwan University Hospital and the director of hospital's traumatology department.]
It is very simple: The methods of running a seven-person team in an operating room or a massive surgery team of 250 and the city government team of 80,000 are different.
Whereas willpower is enough in an operating room, it also absolves the surgeon of having to think about what other people think. In the city government, I cannot enforce my will thoughout the entire organization.
The question brings us back to what I said earlier: Politics is a professional affair, with its attendant knowledge and techniques. We have to learn afresh, instead of copying and pasting from our previously successful model.
An important task is to establish a kind of company culture — one that is not based on the casual dismissal or changing of employees, but on managing and inspiring the employees working under us. In short, the methods of management have to change.
LT: Why is it that department and bureau heads feel there is a gap between them and the mayor?
Ko: Essentially, Ko Wen-je is not someone who is very personable. However, I have reduced the number of times I tell people off, mostly because I am aware of my low support ratings.
To be frank, it is not a bad thing to come face to face with disappointments, because this makes you adjust your course.
Many people are worried about their support levels dropping, but I am not discouraged, because for me, it is simply the end of the honeymoon period and a return to business as usual.
If there is a problem, I will try to fix it.
In my opinion, if I change enough, [higher ratings] will return. I must simply stop being stubborn and start to change my ways.
Translated by Jake Chung, staff writer
Comments will be moderated. Keep comments relevant to the article. Remarks containing abusive and obscene language, personal attacks of any kind or promotion will be removed and the user banned. Final decision will be at the discretion of the Taipei Times.