Activists demand debate on supervisory articles
SUNFLOWER REVIVAL: The activists said the Sunflower movement is not finished yet and that they are extremely anxious about where the DPP's trade policy is going
Sunflower movement activists yesterday threatened to escalate protests if the Democratic Progressive Party (DPP) refuses to engage in open debate over "supervisory articles" for negotiations with China, demanding that the party address flaws in its proposed draft legislation.
Protesters from about 20 civic groups gathered in front of the Legislative Yuan's front gate, shouting their rejection of "fake" legislative supervision of negotiations with China.
"The Sunflower movement is not finished yet — we are extremely anxious about where DPP trade policy is going," Economic Democracy Union convener Lai Chung-chiang (賴中強) said, adding that premier-designate Lin Chuan (林全) promised to move forward with the cross-strait service trade agreement and trade in goods agreement.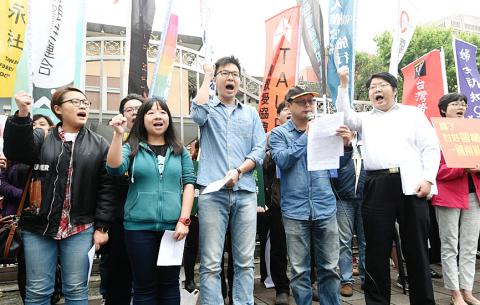 Economic Democracy Union convener Lai Chung-chiang, second right, Sunflower movement leader Lin Fei-fan, center, and other campaigners yesterday make demands in Taipei related to the cross-strait agreement oversight bill.
Photo: Fang Pin-chao, Taipei Times
Lai's organization spearheaded early opposition to the service trade agreement, which culminated in the Legislative Yuan being surrounded by protesters for three weeks during 2014's Sunflower movement, after the main legislative chamber was occupied by student activists. Passing supervisory regulations to address opaque "black box" negotiations with China by guaranteeing legislative oversight and civic participation was a key demand of the movement.
The relatively "flexible" and "loose" version of supervisory regulations proposed by the DPP caucus — which would not be applied retroactively to past agreements or negotiations already underway — raised questions about whether they were laying a path for continuing President Ma Ying-jeou's (馬英九) China trade policy, Lai said, calling for the DPP and New Power Party (NPP) caucuses to respond to activists' objections within a week, and to hold open dialogues and debates over differences in opinion.
The protesters said the draft legislation was too weak to guarantee legislative supervisory powers, meaningful civil participation or rigorous review of the effect of agreements. They also criticized it for failing to include special standards for sovereignty-related negotiations and also for using language referring to Taiwan as an "area" instead of a nation.
"If the DPP intends to take a different course [from Ma's administration], it should not use previous methods of dealing with the objections raised by civil society," former Sunflower movement spokesman Lin Fei-fan (林飛帆) said, blasting DPP legislators for allegedly claiming that activists' objections were the result of "misunderstandings."
"I think some of the demands are because of a lack of understanding [of DPP draft legislation] while others are because of genuine differences of opinion," said DPP Legislator Lee Chun-yi (李俊俋), who met with protesters on behalf of the DPP caucus.
While NPP legislators Huang Kuo-chang (黃國昌) and Hsu Yung-ming (徐永明) accepted the protesters' demands for open discussions and debate, Lee said his party's caucus believed it was important to follow Legislative Yuan procedures for reviewing legislation.
"We will seek to work in opinions from all parties and invite everyone to participate in public hearings to fully express their views," he said.
His remarks drew cries of "not satisfied" from protesters, with Lin saying that a "public hearing" would not satisfy protesters' demands for an open debate and promising to return to "get an answer" if the DPP fails to respond within a week.
Meanwhile, Wang Puchen (王炳忠) and other protesters affiliated with the "deep-blue" New Party also showed up to "support" the activists — breaking out periodically into shouts accusing the DPP of "political fraud" for switching its position on supervisory articles.
The Chinese Nationalist Party (KMT) caucus echoed the activists, calling on DPP chairperson and president-elect Tsai Ing-wen (蔡英文) to apologize to the public for the party's change of attitude.
KMT Legislator Alicia Wang (王育敏) said the DPP had a "two-state doctrine" imbedded in its past draft legislation, which put "Taiwan and China" in the name of the proposed law.
"Now it is gone, meaning a great deal has changed," Wang said. "The party chairperson should offer an explanation and acknowledge that what she had upheld was a mistake. Should she not apologize to the KMT and the Executive Yuan for what she has done?"
Wang called on the activists and civil groups that participated in the Sunflower movement to "use the same standard that they had for overseeing the Ma administration to oversee the incoming government led by Tsai."
KMT Legislator Chang Li-shan (張麗善) seconded Wang's remarks, calling on the Appendectomy Project organizers — who had called for the recall of the incompetent lawmakers who were mainly, but not limited to, KMT members — to take the axe to the DPP lawmakers as well.
Additional reporting by Alison Hsiao
Comments will be moderated. Keep comments relevant to the article. Remarks containing abusive and obscene language, personal attacks of any kind or promotion will be removed and the user banned. Final decision will be at the discretion of the Taipei Times.