Minister calls on China for fraud facts
JOINT CRIME-FIGHTING: Chinese officials have said that scams committed by Taiwanese cost more than 10 billion yuan annually and inflict great suffering
Mainland Affairs Council Minister Andrew Hsia (夏立言) yesterday urged China to present concrete evidence backing figures it released to demonstrate the prevalence of Taiwanese-orchestrated telecommunications fraud, while calling for a new round of negotiations on a cross-strait pact to jointly fight crime.
Hsia made the remarks on the sidelines of a meeting of the legislature's Internal Administration Committee, which invited him speak and answer questions about Kenya's deportation of 45 Taiwanese from Nairobi to Beijing on Friday last week and on Tuesday.
"I have seen the frightening numbers of [telecom scam] victims published by Chinese authorities. However, we hope they can present some evidence to back the figures so that they are not just conjecture," Hsia said.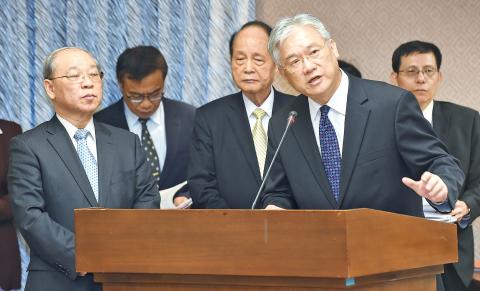 Mainland Affairs Council Minister Andrew Hsia yesterday speaks during a question-and-answer session at the Legislative Yuan in Taipei.
Photo: Liu Hsin-de, Taipei Times
China is also urged to show evidence that its forcible seizure of the Taiwanese conformed with procedural justice, Hsia said.
Hsia was referring to a statement issued by China's Taiwan Affairs Office on Wednesday, in which the office justified the deportation of the Taiwanese as an attempt to safeguard the rights and interests of Chinese who have affected by telecom fraud orchestrated by Taiwanese.
Twenty-three of the deported Taiwanese were acquitted by a Kenyan court on Friday last week in a 2014 telecom fraud case, while the other 22 Taiwanese were among a group of 41 suspects arrested by Kenyan police on the same day.
According to a statement, the 23 acquitted Taiwanese were involved in a telecom fraud ring that swindled more than 100 Chinese by pretending to be Chinese public security officials, making more than 6 million yuan (US$925,198).
"It is estimated that Taiwanese fraudsters have made more than 10 billion yuan annually from Chinese in recent years… These scams have bankrupted many families and corporations, inflicting tremendous physical and mental pain on victims. Some even committed suicide as a result," the statement said, calling for compassion.
Expressing confidence that the Kenya incident would result in better cross-strait agreements about joint crime-fighting, Hsia said the Philippines' controversial deportation of 14 Taiwanese fraud suspects to China in 2011 also created an unpleasant cross-strait conflict at the time, but both Taipei and Beijing were able to reach an agreement following five months of negotiations.
The agreement, reached under the framework of the 2009 Cross-Strait Joint Crime-Fighting and Judicial Mutual Assistance Agreement (海峽兩岸共同打擊犯罪及司法互助協議), said that Taiwanese and Chinese who commit wrongdoings in a foreign nation should be deported to their respective countries.
"Their failure to honor the agreement this time was probably due to the emergence of new types of fraud. With the number of fraudsters and victims on the rise, we hope to engage in further talks to determine whether we need to step up our crime-fighting efforts," Hsia said.
Hsia said that whether Taiwan should impose more stringent penalties for fraud was an issue worthy of serious consideration.
Comments will be moderated. Keep comments relevant to the article. Remarks containing abusive and obscene language, personal attacks of any kind or promotion will be removed and the user banned. Final decision will be at the discretion of the Taipei Times.