Spy charges 'could damage' US-Taiwan ties
The US Naval Criminal Investigative Service and the FBI are now investigating allegations that a serving US naval officer has been spying for Taiwan and China.
A former US defense official has told the US Naval Institute (USNI) News that if Taiwan had indeed cultivated the spy as a source of classified information, "the revelation could damage the relationship between Taipei and Washington."
Espionage charges against Taiwan-born US Navy Lieutenant Commander Edward Lin remain shrouded in secrecy, with officials refusing to reveal evidence.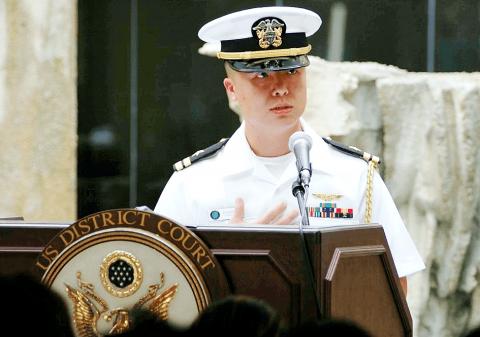 US Navy Lieutenant Commander Edward Lin speaks on Dec. 3, 2008, in a picture released by the US Navy.
Photo: US Navy/MC1 Sarah Murphy via AP
It appears the case is extremely serious, involving state secrets relating to US national security.
Sources told Washington news organizations on Monday that Lin allegedly spied for both Taiwan and China.
He faces multiple spy-related offenses, but there are two major charges of espionage and three charges of attempted espionage.
He has also been charged with falsifying federal records to hide his travels abroad, mishandling secret information, soliciting a prostitute and committing adultery.
If convicted on the espionage charges, he could be sentenced to death, but that is unlikely. Rather, if found guilty, he is likely to serve a lengthy prison term.
As reported by the Taipei Times, Lin — a naturalized US citizen who speaks fluent Mandarin — was assigned to the headquarters of the US Navy Patrol and Reconnaissance Group, which oversees intelligence-collection activities.
His family left Taiwan for the US when he was 14. He is now 39.
Newsweek magazine has reported that Lin was secretly arrested about eight months ago and has been held since then in the Naval Consolidated Brig in Chesapeake, Virginia.
The first public notice of his case came on Sunday when a Web site run by USNI reported that a preliminary hearing was held last week in Norfolk, Virginia.
US Navy officials confirmed that charges against a serving officer were "examined," but would not at first confirm the officer's identity.
Since then, senior sources speaking on condition of anonymity have released Lin's name and a heavily redacted three-page charge sheet has been made available.
As part of the spying charges, Lin is accused of communicating secret information "with intent or reason to believe it would be used to the advantage of a foreign nation."
No nation is named and no explanation is given of the much lesser charges involving the prostitute.
The Washington Post has reported on its Web site — and the Taipei Times has also been told — that the Naval Criminal Investigation Service and the FBI are investigating whether Lin passed classified information to China and Taiwan.
"As to Taiwan's involvement, while the island nation shares a close relationship with the US, there have been instances in the past where US officials have passed classified information to Taipei or Chinese agents posing in Taipei's interests," USNI News reported.
Former US deputy assistant secretary of state for East Asia Randy Schriver was quoted as saying: "Taiwan is like Israel, it's a close relationship — we have a security relationship with them — but they also collect on us."
US Fleet Forces Commander Admiral Philip Davidson is in charge of the case and might decide before the end of this month if the evidence is sufficient to send Lin before a court-martial.
Lin enlisted in the US Navy in 1999, was commissioned in 2002 and at the time of his arrest last year was stationed with Special Projects Patrol Squadron 2 in Kaneohe Bay, Hawaii.
According to the Washington Post, that unit flies the super-secret P-3C Orion maritime patrol aircraft, searching for enemy submarines and performing reconnaissance and intelligence-gathering operations in the Pacific.
A retired senior US Navy officer told the Taipei Times that Lin would have been particularly valuable to US intelligence because of his fluency in Mandarin and had access to extremely sensitive information.
Lin was taken into custody at an airport in the US Pacific Command region while heading to a foreign country, a US official with knowledge of the investigation told CNN.
There is speculation that he might have been carrying secret documents that he intended to hand over to that foreign country.
Sources say that Lin would have known how the US Navy uses spy planes to pick up signals coming from foreign submarines and exactly which signals were vulnerable to US detection.
This could potentially give the foreign country greater ability to hide its signals.
CBS News quoted a US official familiar with the case as saying that Lin leaked details about the US spy plane's communication systems — "information that could help adversaries counter US eavesdropping."
"The specifics of how the US gathers signals from potential adversaries are among the military's most closely guarded secrets," USNI reported on Monday night in Washington. "Knowing the methodology for how the US gathers signals intelligence — information that Lin would likely have with his experience — could allow adversaries to devise ways to counter US monitoring."
When Lin gained US citizenship in 2008, he said that the US was the "promised land."
According to an article released at the time by the US Navy, Lin said: "Whether it is economical, political, social or religious reasons, I do know that by becoming a citizen of the US, you better your life and the life of your family."
Comments will be moderated. Keep comments relevant to the article. Remarks containing abusive and obscene language, personal attacks of any kind or promotion will be removed and the user banned. Final decision will be at the discretion of the Taipei Times.