KENYA INCIDENT: NPP accuses Beijing of breach of human rights
The New Power Party (NPP) caucus yesterday accused Beijing of a breach of human rights and a cross-strait judicial agreement in the case of the detention of Taiwanese deported from Kenya to China.
The party also criticized President Ma Ying-jeou's (馬英九) administration, saying it was complacent over the issue because of its stance on cross-strait "rapprochement."
Eight Taiwanese were deported to China on Friday, three days after they and 15 other Taiwanese were ordered to leave Kenya within 21 days following their acquittal in a telecoms fraud trial on April 5.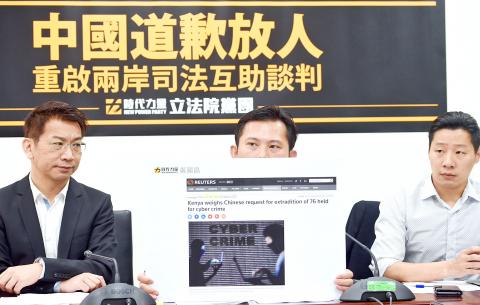 New Power Party caucus members hold a press conference in Taipei yesterday, demanding that China apologize for pressuring Kenya to send Taiwanese nationals to Beijing. They also criticized the government for its adherence to the "one China" policy.
Photo: Lo Pei-der, Taipei Times
The case involved 45 Taiwanese and 54 Chinese, who were arrested by Kenyan police in November 2014 and later indicted on charges of unlicensed telecoms activities, unlicensed use of radio equipment and organized crime.
Thirty-seven of the Taiwanese arrested were taken by police from the Chinese embassy in Kenya and flown to China yesterday.
"The eight were acquitted, so there was no issue of extradition. China's action amounts to extrajudicial abduction," NPP Legislator Huang Kuo-chang (黃國昌) said.
"The Cross-Strait Joint Crime-Fighting and Judicial Mutual Assistance Agreement (海峽兩岸共同打擊犯罪及司法互助協議) is as good as a scrap of paper, as Taipei has not been informed of the detainees' safety and whereabouts so far," Huang said.
According to the agreement, which came into force in 2009, Taiwan and China should immediately notify each other of any detention of the other's citizens, and both nations should provide assistance to the family of the detainees and to ensure visitation rights.
"The incident, which hurt Taiwan's sovereignty and human rights, has a precedent in 2011, when the Philippines deported 24 Taiwanese accused of being members of an international telephone fraud ring to China. The two 'extraditions' exposed the absurdity and fallacy of the 'one China' policy that the Ma administration has insisted on," Huang said.
"The 'extradition' took place just before Ma promoted his East China Sea peace initiative on Pengjia Islet (彭佳嶼) on Sunday. The incident happened just a few months after the meeting between Ma and Chinese President Xi Jinping (習近平), when the Ma administration believed Taiwan and China were on friendly terms. There is no ground for complacency, and the Ma administration has to face the reality of Taiwan and Taiwanese being suppressed by China," NPP Legislator Freddy Lim (林昶佐) said.
According to the Ministry of Justice, only 350 of 676 requests from Taiwan to demand China reveal information of Taiwanese detained in China were processed from 2009 to this year, the party said.
The party said the government should renegotiate the judicial pact with China to define extradition procedures to ensure no such "kidnapping" would happen again.
Comments will be moderated. Keep comments relevant to the article. Remarks containing abusive and obscene language, personal attacks of any kind or promotion will be removed and the user banned. Final decision will be at the discretion of the Taipei Times.