President visits Pengjia Islet to aver sovereignty
President Ma Ying-jeou (馬英九) yesterday visited a small island in the East China Sea to reassert Taiwan's sovereignty and its role in the contested region, one of the key issues of his administration that ends next month.
Ma's visit yesterday to Pengjia Islet (彭佳嶼) — about 56km north of Taiwan proper — was his administration's second trip to an island in three weeks.
It came four years after Ma last visited Pengjia to propose his East China Sea peace initiative, aimed at addressing territorial disputes between Taiwan, China and Japan over the nearby Diaoyutai Islands (釣魚台), known as the Senkakus in Japan.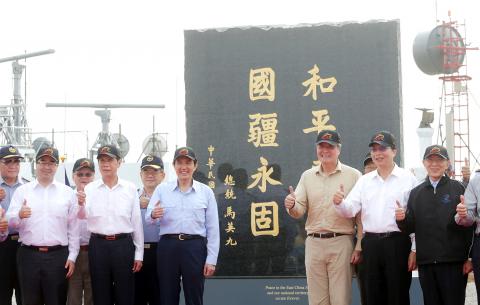 President Ma Ying-jeou, foreground, second left, and other officials yesterday make thumbs-up signs at a monument Ma unveiled during a visit to Pengjia Islet.
Photo: CNA
Pengjia, considered the northernmost part of Taiwan's territory, is not contested and is home to about 40 residents, a weather station and coast guard facilities.
Ma yesterday toured the weather station and unveiled a monument to maritime peace.
During his speech yesterday, Ma mentioned his South China Sea peace initiative, which was proposed last year amid simmering tensions over competing territorial claims in that area by several countries.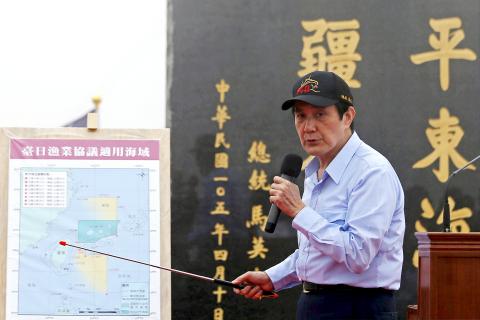 President Ma Ying-jeou points to a map of the Taiwan-Japan Fisheries Agreement during a monument unveiling event at Pengjia Islet yesterday.
Photo: Reuters
The initiative calls for all parties to take action to reduce tensions, abide by international law, ensure the freedom of navigation and overflight and seek a peaceful resolution to disputes.
Ma said that the agreement on law enforcement cooperation in fisheries matters signed in November last year between Taiwan and the Philippines was the first positive concrete result stemming from his South China Sea peace initiative.
Ma also touched on his January visit to Itu Aba Island (Taiping Island, 太平島) — the largest island in the Spratly Islands (Nansha Islands, 南沙群島) in the South China Sea.
He flew to Taiping Island to demonstrate that Itu Aba is a self-supporting island entitled to an exclusive economic zone, rather than a rock, as the Philippines claims in an international lawsuit, he said.
Washington, a crucial ally of Taiwan's, at the time called the trip "extremely unhelpful" to efforts to maintain stability in a region that is widely considered a potential military flashpoint.
Late last month, Deputy Minister of Foreign Affairs Bruce Linghu (令狐榮達) led two dozen journalists on another trip to Itu Aba.
Comments will be moderated. Keep comments relevant to the article. Remarks containing abusive and obscene language, personal attacks of any kind or promotion will be removed and the user banned. Final decision will be at the discretion of the Taipei Times.