Ministry says ties with Vatican strong
ALLIES: President Ma Ying-jeou said that Taiwan's friendship with the Vatican has remained unshakable and has become firmer, citing the many visits made by cardinals
The Ministry of Foreign Affairs yesterday reiterated the strong ties between Taiwan and its sole European diplomatic ally, the Holy See, amid renewed rumors that the Vatican and China are going to enter talks on resuming diplomatic relations.
"Diplomatic relations between the Vatican and the Republic of China (ROC) have reached their 74th year. Our friendship has been stable and marked by frequent exchange events, including the ongoing special exhibition featuring artifacts from the Holy See at Taipei's National Palace Museum," Department of European Affairs Director-General Anna Kao (高安) told a morning news conference in Taipei yesterday.
Asked to comment on recent speculation that China and the Vatican could begin talks about restoring formal diplomatic ties after both sides have reportedly reached a consensus on the long-standing thorny issue regarding the appointment of Chinese bishops, Kao said the ministry would closely watch any dialogue between Beijing and the Holy See.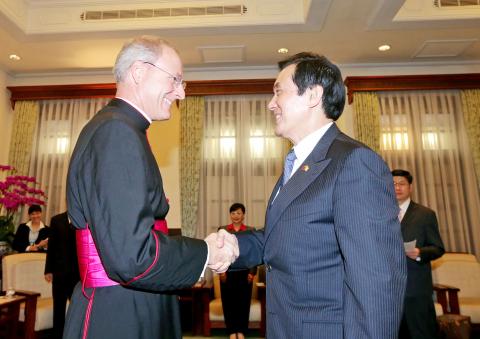 President Ma Ying-jeou, right, shakes hands with Paul Russell, the Vatican's senior envoy to Taiwan, during a meeting at the Presidential Office Building in Taipei yesterday.
Photo: CNA
Kao added that the core interest of the Holy See is religious issues and that what it cares about is Catholics worldwide.
There have been sporadic rumors of the Vatican's interest in establishing diplomatic ties with China, which renewed its calls that the city-state sever its ties with Taiwan following the election of Pope Francis in 2013.
In the meantime, concerns have been growing that China could revive its previous strategy of poaching Taiwan's diplomatic allies to strong-arm president-elect Tsai Ing-wen (蔡英文) into coming to terms with the so-called "1992 consensus" and refraining from adopting any independence-leaning policies.
The "1992 consensus"— a term former Mainland Affairs Council chairman Su Chi (蘇起) admitted making up in 2000 — refers to a tacit understanding between the Chinese Nationalist Party (KMT) and the Chinese government that both sides acknowledge there is "one China," with each side having its own interpretation of what "China" means.
Separately yesterday, President Ma Ying-jeou (馬英九) hailed Vatican-ROC ties during a meeting at the Presidential Office Building with Monsignor Paul Russell, charge d'affaires ad interim of the Holy See.
Ma said Taiwan and Vatican's friendship has remained unshakable and become firmer over time, citing the many visits made by Vatican's cardinals and members of pontifical councils to Taiwan since 2008.
Comments will be moderated. Keep comments relevant to the article. Remarks containing abusive and obscene language, personal attacks of any kind or promotion will be removed and the user banned. Final decision will be at the discretion of the Taipei Times.