Protesters urge harsher penalties for murderers
Protesters yesterday festooned the gates and walls of the legislature in Taipei with flowers, ribbons and paper cranes to urge the passage of harsher penalties for murderers, following the decapitation of a four-year-old girl on Monday last week.
Yellow ribbons strung with paper cranes hung from the bars of the western fence of the legislative compound, with white roses and yellow chrysanthemums tied to the top of the bars.
The cranes were folded on site from paper printed with calls for the enforcement of "punitive laws" and "severe punishment," along with prayers for well-being.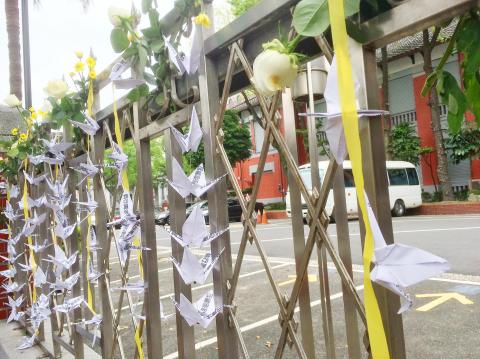 Folded paper cranes printed with prayers of well-being and calls for the "severe punishment" of murderers festoon the legislature's boundary fence in Taipei yesterday.
Photo: Abraham Gerber, Taipei Times
Event organizer Kelly Chen (陳思婷) said that the event was intended as a memorial to the four-year-old girl who was decapitated in Taipei's Neihu District (內湖) last week, while spurring legislators to enact harsher penalties for child murderers.
"Murderers deserve to be sentenced to death, but anyone who kills a defenseless child should be subject to severe punishment before the death sentence is carried out," she said, citing "whipping" as an example. "Otherwise, people won't care enough because they know that the worse they can expect is a painless death."
She also called for mandatory sentencing laws mandating either life imprisonment without parole or the death penalty for murderers, as well as quicker sentencing for murderers caught "red-handed."
"Of course, I would be happier if police could shoot on sight, but at the very least there should be a quick review and quick execution of sentences," she said.
While a related Facebook petition started by Chen attracted more than 140,000 signatures, only a handful of people came to help fold the paper cranes, including several passersby.
Huang Cheng-hsun (黃政勳) said he chose to participate after seeing the petition because repeated random killings showed that society is "a mess" and it appears that there are not any laws powerful enough to restrain potential killers.
Comments will be moderated. Keep comments relevant to the article. Remarks containing abusive and obscene language, personal attacks of any kind or promotion will be removed and the user banned. Final decision will be at the discretion of the Taipei Times.