Hung attends KMT caucus meet
READY TO FIGHT: Hung said she would reform the party's think tank, uniting it with the legislative party caucus to turn it into the caucus' 'ammunition depot'
Chinese Nationalist Party (KMT) Chairwoman Hung Hsiu-chu (洪秀柱) attended a KMT caucus meeting yesterday, appearing at the Legislative Yuan as party chairwoman for the first time.
She welcomes communication, Hung said during the meeting, calling on legislators to freely express their opinions.
Saying that there are only "comrades, no enemies" within the party, Hung added that the KMT, despite being a minority party, should exert its power of oversight.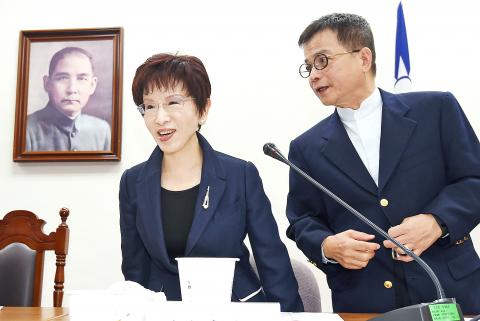 Chinese Nationalist Party (KMT) Chairwoman Hung Hsiu-chu, left, attends a meeting of the party's legislative caucus in Taipei yesterday.
Photo: Liao Chen-huei, Taipei Times
She said that the KMT was often "hijacked by the minority" when it was a majority party, adding that party supporters said that there was no point in them giving the KMT the majority of seats in the legislature with many bills blocked.
Hung said she hopes that the 35 legislators the KMT has could become a strong team and refrain from "opposing [bills] just for the sake of opposition."
"When the Democratic Progressive Party [DPP] tries to push through inappropriate and controversial bills with its majority without respecting the minority, [the KMT] has to clarify and explain its stance to the public," she said.
Hung cited the recent controversy caused by a DPP draft bill concerning the oversight mechanism for cross-strait agreements, saying that the DPP has a different stance toward the agreements and the shift has shown the public how the party changed its attitude after it gained power.
"However, I am pleased to see the transformation, as it would be good for peaceful cross-strait relations. And it shows that the KMT was not wrong in its insistence on the matter," she said.
Hung said she is glad to see that president-elect Tsai Ing-wen (蔡英文) is following President Ma Ying-jeou's (馬英九) principles.
Regional legislators should coordinate with the party caucuses of the local councils, uniting the local forces to make the party's power felt in councils and help the councilors and lawmakers to take root in electoral districts, she said.
The constitution of the party's think tank would be amended as well, Hung said, underlining that the think tank would be reformed to unite with the legislative party caucus and become the caucus' "ammunition depot."
The legislative caucus would also be divided into different task forces to work on different issues, with the support of the "ammunition" provided by the think tank, she said.
When asked about her staff, Hung said some "hints could be discerned" when she and party officials go to the Tzuhu Presidential Burial Place to pay tribute to Chiang Kai-shek (蔣介石) next week, as the party does on April 5 every year, the anniversary of Chiang's death.
Comments will be moderated. Keep comments relevant to the article. Remarks containing abusive and obscene language, personal attacks of any kind or promotion will be removed and the user banned. Final decision will be at the discretion of the Taipei Times.