Hung to expel reformer: report
Chinese Nationalist Party (KMT) Chairwoman Hung Hsiu-chu (洪秀柱) is reportedly planning to expel former KMT spokesperson Yang Wei-chung (楊偉中) and appoint former KMT legislators Wu Yu-sheng (吳育昇) and Chiu Yi (邱毅) to crucial party positions.
It was reported by Chinese-language magazine the Journalist that while Hung is prepared to make some compromises on her cross-strait stance, she plans to implement some controversial personnel changes.
The magazine said Hung would be a weak chairperson, considering that she was elected with the lowest percentage of votes obtained in a KMT chairperson election — with the lowest voter turnout rate.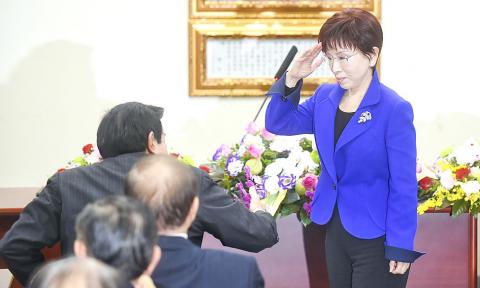 Chinese Nationalist Party (KMT) Chairwoman Hung Hsiu-chu yesterday salutes President Ma Ying-jeou at KMT headquarters in Taipei after her inauguration ceremony.
Photo: Liu Hsin-de, Taipei Times
The low turnout rate shows that many members are pessimistic about the party's future, the article said, citing an anonymous high-level party official as saying that the apathy of party members is the greatest threat facing the KMT.
It might have looked like a landslide victory, as Hung had a 23 percentage-point advantage over the runner-up and won in all six special municipalities, but in truth Hung secured less than a quarter of the votes, the report said.
In places where the party's "local" faction holds sway, such as Changhua, Yunlin and Chiayi counties, Hung's support lagged behind that of Huang Min-hui (黃敏惠), who was considered a more "local" candidate.
The article cited sources as saying that Hung would not accentuate her pro-unification stance after inauguration in order to assuage the worries of the party's "local" faction, and would continue President Ma Ying-jeou's (馬英九) cross-strait approach of the so-called "1992 consensus" and "one China, different interpretations."
The "1992 consensus," refers to a tacit understanding between the KMT and the Chinese government that both sides acknowledge there is "one China," with each side having its own interpretation of what "China" means.
It remains in question whether Hung will have the KMT legislative caucus' full support — with the caucus to elect its own caucus whip instead of accepting the party headquarters' appointment.
The report said that Hung has decided to assign former KMT lawmakers to important party positions who are combative enough and have a positive enough public image to assist the party caucus in legislative battles.
The magazine quoted a KMT official as saying that a "combat intelligence center" has been established in which Wu Yu-sheng and Chiu Yi are prominent.
The center played a crucial role stoking the recent OBI Pharma Inc controversy when the party headquarters had its hands tied with a by-election, the report cited the official as saying.
The magazine cited another source as saying that Hung is unhappy with Yang, who has repeatedly criticized the party, and she is likely to expel Yang.
Yang yesterday said he has faith in the chairperson's wisdom, but if he is expelled, he would not criticize the party in public.
Comments will be moderated. Keep comments relevant to the article. Remarks containing abusive and obscene language, personal attacks of any kind or promotion will be removed and the user banned. Final decision will be at the discretion of the Taipei Times.