Murder of child sparks outrage
CONFLICT: The killing renewed calls to uphold the death penalty, with TV host Jacky Wu calling for collective punishment to include the suspect's family
The decapitation of a four-year old girl in Taipei's Neihu District (內湖) yesterday sparked public outrage and rekindled the debate over capital punishment.
Internet users questioned the necessity of abolishing the death penalty and the possibility of rehabilitating serious offenders, saying the suspect, Wang Ching-yu (王景玉), who allegedly beheaded the girl in an apparently random attack, should be given a speedy trial and immediately executed.
Netizens said that people have to pay for their wrongdoings and "criminals like Wang" have no right to live.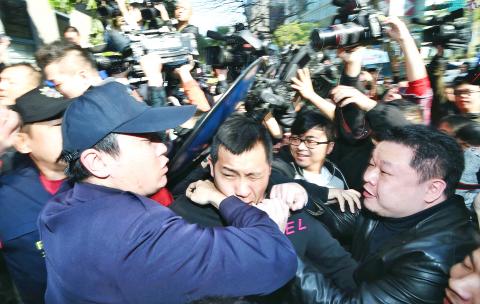 Police officers in Taipei's Neihu District yesterday restrain people trying to attack the suspected killer of a four-year-old girl as he was being escorted to Xihu police station.
Photo: Fang Pin-chao, Taipei Times
"Legislators should revise the law to establish a mandatory death penalty for those convicted of random killing to prevent random attacks and protect public safety. The public is advised to pay attention to their surroundings and strangers as such incidents pose a threat to people," Coalition Against Abolishing the Death Penalty convener Chen Cheng-yu (陳正育) said.
Chinese Nationalist Party (KMT) Legislator Alicia Wang (王育敏) said she has proposed amendments to the Criminal Code to subject people who kill children under 12 to a mandatory death sentence or life sentence, and submitted the proposal for review by the legislature's Judiciary and Organic Laws and Statutes Committee.
"I am deeply distressed by the incident. The killer's cruelty is unforgivable," she said. "What did a four-year-old girl do to deserve this? She was simply playing in the street, but was murdered. No one should have done this and why should not child murderers be given capital punishment?"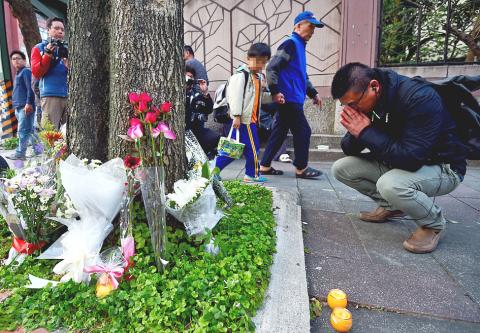 A man prays at an impromptu memorial for a four-year-old girl killed in a knife attack in Taipei's Neihu district yesterday.
Photo: Chien Jung-fong, Taipei Times
"How on earth do we protect our children?" actress June Tsai (蔡君茹) wrote on Facebook. "[The mother of the murdered girl] was closely following her daughter. Why are there still bad people hurting our children?"
TV host Jacky Wu (吳宗憲) said on Facebook that criminals and their families should be collectively punished.
"Another murder of an innocent child? The repetition of such incidents is caused by nothing other than the 'family factor.' The family of the suspect must have known that this person had been fooling around and had a history of drug abuse or mental illness ... They [the family] are the only people who could have prevented this tragic event. Laws must be made to enforce collective punishment," Wu said.
Internet celebrity Lucifer Chu (朱學恒) said on Facebook: "She was simply playing in the streets. Why could we not even protect her and let her grow up safely and happily?"
Taiwan Alliance to End the Death Penalty executive director Lin Hsin-yi (林欣怡) wrote on Facebook that she was "very, very, very sad" about the incident, saying: "How can we stop such incidents? I really hope there is a simple answer for it."
The alliance's legal department director, Lin Tzu-wei (林慈偉), said the group would not issue any statements or comments for the time being, as discussing abolishing the death penalty would only provoke social conflict at this point.
Comments will be moderated. Keep comments relevant to the article. Remarks containing abusive and obscene language, personal attacks of any kind or promotion will be removed and the user banned. Final decision will be at the discretion of the Taipei Times.