Draft bill on transitional justice promotion finalized
STRICT REQUIREMENTS: The draft stipulates that members of a proposed transitional justice committee should be nominated by the Cabinet and approved by the legislature
The Democratic Progressive Party (DPP) caucus yesterday announced that it has finalized a draft of the transitional justice promotion act, which includes establishing a transitional justice promotion committee under the Executive Yuan responsible for making political documents available to the public, removing authoritarian symbols, redressing judicial injustice and managing the Chinese Nationalist Party's (KMT) illegal party assets.
"Transitional justice promotion is an unfinished task in Taiwan's democratic transformation, and it is a historic responsibility that all political parties should face together to achieve social reconciliation," DPP caucus whip Ker Chien-ming (柯建銘) said.
The DPP caucus is expected to submit the draft bill for committee review on Friday at the earliest, Ker said.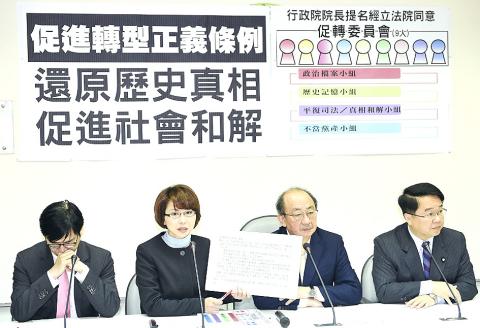 Democratic Progressive Party legislators at a press conference in Taipei yesterday call on the government to fast-track transitional justice legislation.
Photo: Chen Chih-chu, Taipei Times
The draft bill stipulates that the transitional justice promotion committee should have nine committee members who are nominated by the Executive Yuan and approved by the Legislative Yuan. It also stipulates that political party members cannot account for more than one-third of the committee.
The committee is to be comprised of four task forces, with each task force responsible for drafting bills on making political documents available to the public; removing authoritarian symbols and historical sites of injustice; redressing judicial injustice, restoring historical truths and promoting social reconciliation; and managing ill-gotten party assets.
If the draft transitional justice promotion act is passed, political parties and their affiliate organizations will only be allowed to handle party membership fees, political contributions and political party subsidies. Other assets, including those handed over to or registered under trustees, cannot be handled by a political party without agreement from the transitional justice promotion committee.
Illegal party assets, except for those that that can be returned to their original owner or successor, are to be handed over to the government and used in a special fund aimed at implementing long-term care and social welfare policies.
The draft bill for managing illegal party assets is being reviewed by the legislature's Internal Administration Committee, DPP Legislator Chen Chi-mai (陳其邁) said, adding that it focuses on technical and procedural rules, including how to declare, handle and investigate illegal party assets.
Chen said that after the draft bill of the transitional justice promotion act is put to committee review, the two bills are to be reviewed at the same time, to ensure they are consistent with each other.
Comments will be moderated. Keep comments relevant to the article. Remarks containing abusive and obscene language, personal attacks of any kind or promotion will be removed and the user banned. Final decision will be at the discretion of the Taipei Times.