Holiday reduction proposal rejected
LABOR RIGHTS VIGIL: Protesters gathered outside the Legislative Yuan welcomed the decision, but said a resolution focused too much on legal technicalities
A Ministry of Labor proposal to cut the number of officially designated national holidays was yesterday rejected by the Legislative Yuan's Social Welfare and Environmental Hygiene Committee, in a hearing marred by clashes between legislators and Minister of Labor Chen Hsiung-wen (陳雄文).
The committee passed a resolution condemning the ministry's executive order, saying it violated the Labor Standards Act (勞動基準法).
The executive order is to be sent back to the ministry for reconsideration if the resolution is approved by the Legislative Yuan's full session.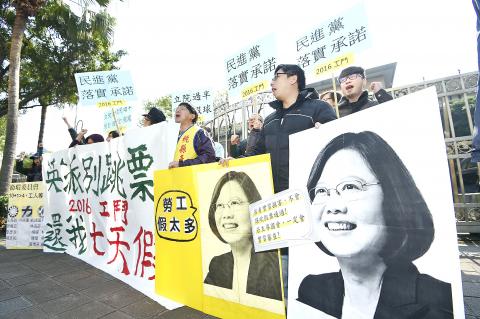 Labor rights campaigners yesterday hold banners and wave placards outside the Legislative Yuan in Taipei, calling on the Ministry of Labor and president-elect Tsai Ing-wen not to cut the number of national holidays.
Photo: Chen Chih-chu, Taipei Times
The ministry moved to reduce the number of national holidays after the passage of legislation mandating a 40-hour work week drew criticism from legislators in questioning before the committee's vote.
Democratic Progressive Party (DPP) Legislator Chung Kung-chao (鍾孔炤), a former Kaohsiung Bureau of Labor Affairs commissioner, said the ministry's order violated articles of the Labor Standards Act that mandate days off should be granted for days of commemoration, Labor Day and other holidays decided by central government bodies. Designation of the holidays cut by the ministry's executive order is the jurisdiction of the Ministry of the Interior, he said, accusing the Ministry of Labor of overstepping its authority.
Chen responded by denying that the ministry had any obligation to provide workers with a holiday for days of commemoration.
"We could make your birthday a day of commemoration, but there would still be no reason to give people a day off," Chen said, adding that the past system of national holidays was overly politicized, citing Retrocession Day and Chiang Kai-shek's (蔣介石) birthday.
"If we have a day of commemoration [on Chiang's birthday], I really do not know what we are commemorating or taking a day off for," he said, adding that the Teachers' Day holiday was also contradictory.
"Confucius' birthday is Teachers' Day, but teachers do not get the day off — why should workers?" he said.
Other holidays cited included the day after New Year's Day, Sun Yat-sen's (孫逸仙) birthday, Youth Day — which commemorates martyrs of China's Xinhai Revolution — and a day to commemorate the Republic of China Constitution coming into effect.
Chen also said that additional regular days off following the introduction of the 40-hour work week are enough compensation for the reduction in national holidays.
"If labor activists are so unhappy, we could just go back to the original law with an 84-hour two-week work cycle and restore all of the holidays, then workers will lose six additional days off," he said.
National Alliance for Workers of Closed Factories member Mao Chen-fei (毛振飛), who was invited to represent labor interests at the hearing, said Chen was "out of touch" and "arrogant" for saying that workers would have an additional six days off every year under the new system.
"I would like to invite the minister to come down and see how labor shifts are actually scheduled," he said, reiterating activists' concerns that employers would use a reduction in daily working hours to continue to force workers to work six days a week.
He said that workers who previously worked on national holidays would also face income cuts because of the difference between holiday and normal overtime, adding that someone earning a minimum monthly wage of NT$20,008 would earn NT$4,900 less each year.
Labor rights promoters held a vigil outside the Legislation Yuan throughout the committee hearing.
They welcomed the committee's decision, but said its resolution focused on legal technicalities without taking a position on whether the holidays should be kept.
Comments will be moderated. Keep comments relevant to the article. Remarks containing abusive and obscene language, personal attacks of any kind or promotion will be removed and the user banned. Final decision will be at the discretion of the Taipei Times.