Wang Jin-pyng denies report of SEF offer
MAC BIAS? Storm Media said Tsai Ing-wen's desire for stability means she is inclined to promote Mainland Affairs Council and pan-blue officials to leadership
Chinese Nationalist Party (KMT) Legislator and former legislative speaker Wang Jin-pyng (王金平) yesterday denied a report that he was offered the chairmanship of the Straits Exchange Foundation (SEF) by the Democratic Progressive Party (DPP).
Online news portal Storm Media reported late on Friday that president-elect Tsai Ing-wen (蔡英文) contacted Wang — who Tsai considers a good candidate for the position — and offered him the chairpersonship, adding that Wang did not oppose the idea of quitting as a legislator to take the job.
The report said that because Tsai considers stability and maintaining the "status quo" as the guiding principles of her staffing plan for agencies dealing with cross-strait affairs, she has been, according to sources, inclined to promote officials working in the Mainland Affairs Council to leadership positions and to have someone from the pan-blue camp head the foundation.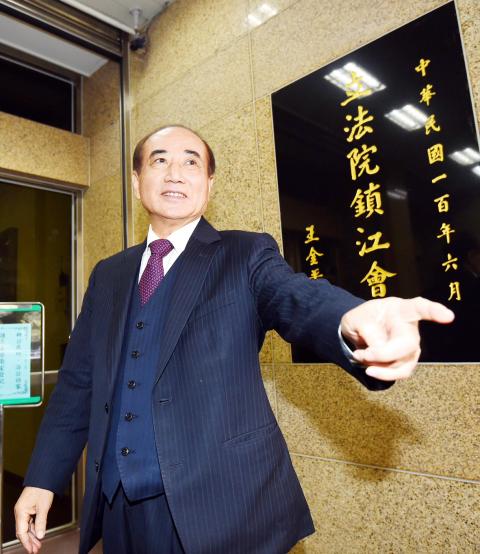 Legislator-at-large Wang Jin-pyng gestures at an entrance to the Legislative Yuan in Taipei on Thursday last week.
Photo: Chien Jung-fong, Taipei Times
The report said that Wang was keen on accepting the offer and playing the role of bridging gaps between the two sides of the Taiwan Strait, but his aides were divided over the issue.
"It is all rumors," Wang said.
When asked whether he would be willing to take over the job if asked, he said it was a hypothetical question.
The report said that since former deputy legislative speaker Hung Hsiu-chu (洪秀柱), who is considered "deep-blue," had a good chance of winning the KMT chairperson by-election — which she did yesterday — it would be difficult for Wang to head the foundation if it required the KMT's approval.
Hung said yesterday that she would not respond to unconfirmed reports, but when asked whether it was appropriate for the DPP to look for someone from the KMT for the position, she said whoever gets elected and governs has to be held accountable for their policies and asked whether it would be acceptable for a KMT member to join the DPP administration without the party's permission.
When asked about the report yesterday, DPP secretary-general Joseph Wu (吳釗燮) said "this is the first time I have heard about it," adding that the consultation process for all potential official appointments is still being worked through.
Additional reporting by Loa Iok-sin
Comments will be moderated. Keep comments relevant to the article. Remarks containing abusive and obscene language, personal attacks of any kind or promotion will be removed and the user banned. Final decision will be at the discretion of the Taipei Times.