Former KMT treasurer Liu defends self
CONTRIBUTION: Liu Tai-ying said that the businesses run by the KMT were making NT$2 billion per year before his term and that he helped it earn NT$10 billion per year
Former Chinese Nationalist Party (KMT) treasurer Liu Tai-ying (劉泰英) said it is "heart-wrenching" that the KMT accused him of incurring great losses to the party during his time as treasurer, but disregarded that he had secured at least NT$70 billion (US$2.15 billion) in profits for the party during the same period.
In an interview with the Chinese-language Wealth Magazine, Liu said he had not been responsible for managing party assets, which is in the purview of the party's finance department. "All I did was operate party-run enterprises; all I did was earn money," he said.
The KMT recently stated in its party assets report that in 2001 alone, Liu had spent NT$42.7 billion to bail out companies that ran poorly.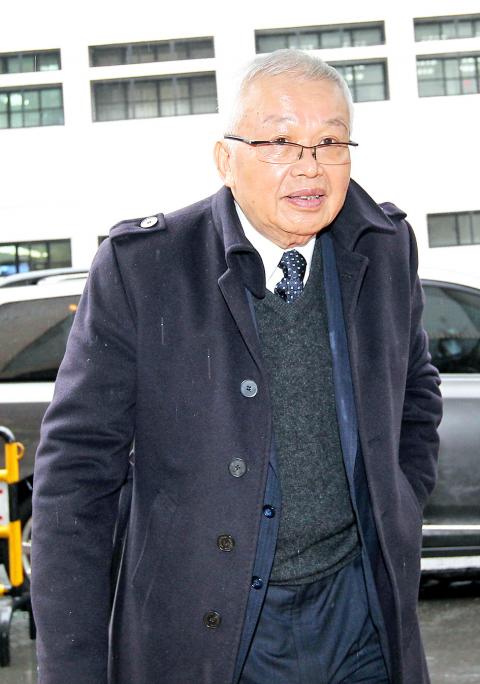 Former Financial Holdings Corp chairman Liu Tai-ying is pictured on Feb. 19, 2014.
Photo: CNA
In response, Liu said he had taken over the position of the chief director of party-run businesses in 1993 and stayed on the job for seven years.
"Before that, party-run businesses made about NT$2 billion per year, but I helped the party earn about NT$10 billion a year from those businesses in those years," Liu said.
"I do not know how well they are operated now, but based on what I had achieved then, it is not possible that the KMT is without money," he said.
Liu also said that during the seven years he worked as the director, he had retrieved stocks of the party-run companies that had until then been possessed by some individuals as their private property.
"I offended many people. Those top echelons of the KMT probably hate me and [former KMT chairman] Lee Teng-hui (李登輝) for this," he said.
Liu said that he had earned at least NT$70 billion for the party in those seven years, during which there were also "burdens" from the previous time to be solved.
"During [former KMT finance committee chief director] Hsu Li-te's (徐立德) time, he invited [Chiang Ching-kuo's (蔣經國) son] Chiang Hsiao-yung (蔣孝勇) to be the chairman of Chung Hsin Electric and Machinery Manufacturing Corp, which won the bids for two incinerators with low-price offers, and Chiang Hsiao-yung made his bodyguard the company's general manager, who raked in NT$500 million for himself. I spent at least NT$4 billion to write off these bad debts," Liu said.
"Also, Hsu founded Singfor Life Insurance Co (幸福人壽), which I had opposed for I believed it could not be sustainable. Hsu made the investment and asked me to take over the business. And you know how it ended," Liu added.
The insurance company was placed under government receivership in 2014 as it had failed to contain financial losses amid management malpractice.
When asked about a rumor that the investment made by Hsu's Global Investment Holding in China were part of the KMT's party assets, Liu said he had speculated along the same lines, "but I could only suspect, without evidence, harboring the question of how come so many party-run enterprises suddenly disappeared."
Liu said the KMT spent NT$12 billion for its 2000 presidential election in which Lien Chan (連戰) was the KMT presidential candidate.
"Not more than NT$2 billion was spent in Lee's presidential campaign [in 1996] and he got 54 percent of the vote. Lien had only 23 percent," Liu said.
"I doubt the money allocated was really spent [for the campaign]. Lien had in the end had to ask for NT$4 billion more; where did the money go? I did not know that it would cost that much, but the financial department had no money so they had to ask it from the party-run enterprises," Liu said.
Comments will be moderated. Keep comments relevant to the article. Remarks containing abusive and obscene language, personal attacks of any kind or promotion will be removed and the user banned. Final decision will be at the discretion of the Taipei Times.