Hsieh likely next envoy to Japan
President-elect Tsai Ing-wen (蔡英文) plans to appoint former premier Frank Hsieh (謝長廷) as the nation's representative to Japan after she assumes office in May, a local news report said.
The decision was finalized last week after Hsieh accepted the position, the Chinese-language Apple Daily reported on its Web site late on Sunday.
Hsieh yesterday would not confirm the report, calling talk about his new job "a newspaper's appointment."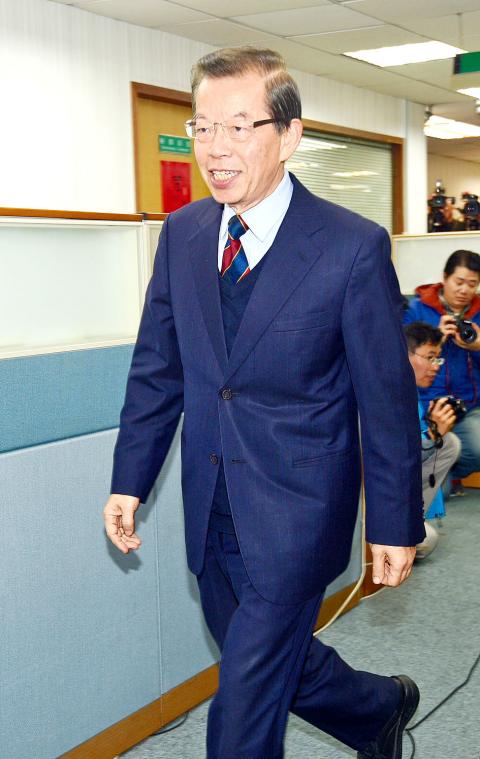 Former premier Frank Hsieh attends a meeting of the Democratic Progressive Party Central Standing Committee on Sunday in Taipei.
Photo: Lo Pei-der, Taipei Times
There has also been speculations about him accepting other assignments, Hsieh said.
Hsieh, who served as premier from 2005 to 2006 under the administration of former president Chen Shui-bian (陳水扁), would be the first former premier to serve as the nation's representative to Japan, if he is selected for the job.
The 69-year-old's long political career also included stints as a lawmaker and mayor of Kaohsiung.
Citing a Democratic Progressive Party the source familiar with the matter, Apple Daily said Tsai made the decision mainly because of Hsieh's good connections in Japan's political circles.
Another consideration was Hsieh's proposed "constitutional consensus" for dealing with cross-strait relations, which Japan finds acceptable, the report said.
According to another source within the pan-green camp, Hsieh's appointment is highly anticipated in Japan because he has studied there, speaks fluent Japanese and maintains good relationships in Japan's political circles, the newspaper said.
Hsieh's status as a former premier would also reflect the importance the future Tsai administration accords relations with Japan, the source said.
SET News cable channel cited former representative to Japan Koh Se-kai (許世楷) as saying that because Hsieh studied in Japan for many years, he has a certain degree of understanding of that nation's history and culture.
However, in light of the "China factor," Koh suggested that Hsieh clearly define his policy views toward China and Japan.
Comments will be moderated. Keep comments relevant to the article. Remarks containing abusive and obscene language, personal attacks of any kind or promotion will be removed and the user banned. Final decision will be at the discretion of the Taipei Times.