TRA's Superman too close to comic character: critics
The Taiwan Railways Administration's (TRA) passenger safety video character TRA Superman (台鐵超人) drew criticism from comic-book artists and lawyers for allegedly plagiarizing Marvel Comics' Ant-Man character.
Taiwanese manga artist Chung Meng-shun (鍾孟舜) said the TRA Superman is a poorly designed knock-off and he has seen Japanese passengers laughing at the character when safety videos are played on TRA trains.
The character is "unbalanced" and looks like "a meatball skewered on a chopstick" due to the combination of a big, helmeted head and a tiny torso in a blue spandex suit, Chung said.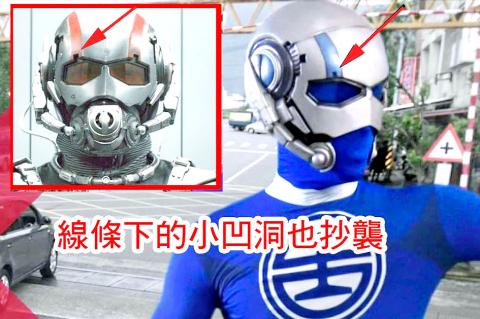 A composite photo shows the Taiwan Railways Administration's passenger safety video character TRA Superman, right, and Marvel Comics' Ant-Man.
Photo courtesy of Chung Meng-shun
He added that the TRA Superman bore a strong resemblance to Marvel Comics' Ant-Man — the protagonist of a comic book series and a blockbuster film by the same name — featuring an almost identical helmet and suit with minor variations in the mouthpiece and color.
Chung said he consulted patent lawyer Chiang Hsin-yu (蔣昕佑) before going public with his accusation and showed Chiang's written response.
"The TRA Superman shares many design elements and a high level of similarity with Ant-Man. Assuming that Ant-Man falls under the rubric of artistic creation, the TRA Superman's representation and substantive similarities constitute a high probability of copyright infringement," Chiang's letter read.
As a public corporation, the TRA's involvement in an apparent act of plagiarism is "extremely shameful to the nation," Chung said, adding that a train station in Keelung was also previously accused of plagiarizing designs from Hayao Miyazaki's My Neighbor Totoro.
The incident is emblematic of "Taiwan's chronic neglect of comic book culture and habitual violation of intellectual property rights," Chung added.
In response, TRA Committee on Transportation Safety director Lin Ching-shan (林景山) said the contract on safety videos forbids plagiarism and the TRA would demand an explanation from the contractors.
The TRA Superman was created for the TRA's Railroad Crossing Safety Promotional Micro Movie Filming Project, a public contract valued at NT$3million (US$92,160) that was awarded to Videoland Inc, according to sources.
Videoland Inc could not be immediately reached for comment.
Additional reporting by Tseng Te-jung
Comments will be moderated. Keep comments relevant to the article. Remarks containing abusive and obscene language, personal attacks of any kind or promotion will be removed and the user banned. Final decision will be at the discretion of the Taipei Times.