Tensions mount at KMT forum
'RISE IN REBELLION': Lee Hsin urged younger members, and especially members from underprivileged families, to come together to demand a complete overhaul of the party
Tensions were high yesterday at a youth forum attended by the four Chinese Nationalist Party (KMT) chairperson candidates, with party reform and cross-strait issues hotly debated.
Seizing an opportunity to campaign ahead of the KMT's chairperson by-election, which is scheduled for Saturday, KMT Acting Chairperson Huang Min-hui (黃敏惠), former deputy legislative speaker Hung Hsiu-chu (洪秀柱), KMT Legislator Apollo Chen (陳學聖) and Taipei City Councilor Lee Hsin (李新) all attended the forum held by the Association for Cross-Strait Public Affairs at the legislature.
Hostility began to build up even before the forum started. Lee wanted to sit next to Hung, who said to him: "I do not want to sit with you. I am going to teach you a lesson later."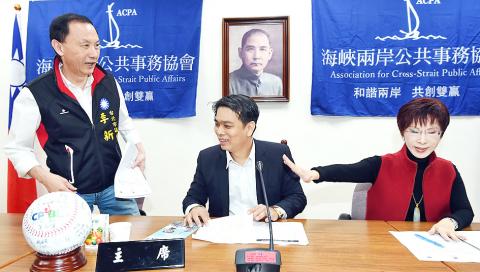 Chinese Nationalist Party (KMT) chairperson candidate Hung Hsiu-chu, right, yesterday gestures to rival candidate Lee Hsin at a forum held by the Association for Cross-Strait Public Affairs at the Legislative Yuan in Taipei while association chairman Teng Che-wei looks on.
Photo: Liao Chen-huei, Taipei Times
Hung then moved to a different seat after Lee ignored her opposition and sat next to her anyway.
In his speech, Lee urged the KMT's younger members to "rise in rebellion" and demand a complete overhaul of the party, saying that the KMT would only have a future if it is infused with fresh, young blood.
"Up until now, our party's younger members, aged between 20 and 30, whether those in the KMT's Youth League or the Department of Youth Affairs, have you actually tried to stand up and initiate rebellion within the party?" Lee said.
Quoting the phrase, "Blow it up and start over," Lee said that the party is inundated with children of wealthy parents and political heavyweights and that it is time for younger KMT members without a privileged background to speak up.
The KMT can no longer afford to wait for the party's old guard to willingly take a back seat, Lee said, adding that half of the places on the party's electoral lists for local elections in 2018 should be reserved for younger candidates.
Hung counterattacked in her speech, saying that she "absolutely opposed" Lee's justification for rebellion within the party, adding that it was that kind of mindset that triggered China's decade-long Cultural Revolution.
"Of course young people can challenge the system, they can have lofty ideals and want to speak up, but please do not use the word 'rebellion,'" Hung said, adding that nominating untrained and uncultivated young people as candidates is tantamount to sending them to die in battle.
Huang said that now is not the time for heroes or the next political superstar, because what the KMT needs at the moment is teamwork, adding that she intends to establish a youth development committee to solicit opinions from younger party members.
On cross-strait issues, Hung said that cross-strait ties are the most important part of the KMT's policy and that she refuses to accept any mudslinging meant to discredit her cross-strait policy.
Questioning the definition of the cross-strait "status quo," Chen said that the KMT has neither dared to adopt a more pro-localization stance nor sought unification, while China has been making exorbitant demands.
"I believe the KMT should seek common ground while keeping differences," he said. "For the common ground part, the party should continue to adhere to the consensuses reached across the Taiwan Strait during the KMT's administration. However, as far as keeping differences, this is something the party has yet to dare to do."
Comments will be moderated. Keep comments relevant to the article. Remarks containing abusive and obscene language, personal attacks of any kind or promotion will be removed and the user banned. Final decision will be at the discretion of the Taipei Times.