Environmentalists urge devotees to reduce pollution
Environmentalists yesterday urged Matsu devotees to refrain from setting off firecrackers, or burning incense and joss paper ahead of an annual religious festival next month to reduce air pollution.
Campaigners gathered at Nanyao Temple (南瑤宮) in Changhua City — the first stop of the annual Dajia Matsu Pilgrimage, one of the most celebrated religious activities in Taiwan — and presented a bouquet of flowers to Changhua Mayor Chiu Chien-fu (邱建富), urging people to replace incense and firecrackers with flowers.
Environmentalists measured air pollution levels inside and outside the temple with handheld devices, and recorded concentrations of PM2.5 — particulate matter measuring 2.5 micrometers or less in diameter — of between 50 micrograms per cubic meter and 60 micrograms per cubic meter outside of the temple.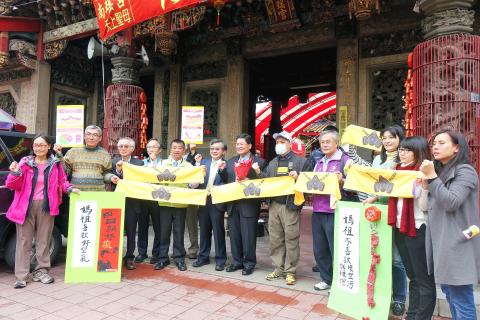 Environmentalists yesterday display towels featuring an anti-pollution logo and present Changhua Mayor Chiu Chien-fu, third right, with flowers during a visit to the city's Nanyao Temple.
Photo: Liu Shiao-hsin, Taipei Times
However, concentrations of PM2.5 reached more than 200 micrograms per cubic meter near incense burners inside the temple, illustrating the severity of air pollution caused by incense burning.
According to Environmental Protection Administration criteria, PM2.5 levels higher than 54 micrograms per cubic meter are considered hazardous.
Changhua Medical Alliance deputy director Chen Chih-yuan (陳志遠) said during an anti-pollution campaign in Nantou's Puli Township (埔里) last year that PM2.5 levels were about 15 micrograms per cubic meter, but the level soared to 319 micrograms per cubic meter after a local temple set off fireworks in celebration of the birthday of a god.
"Air pollution caused by religious activities can be more serious than haze in China," Chen said.
Taiwan Healthy Air Action Alliance founder Yeh Guang-peng (葉光芃) said burning incense generates benzene and polycyclic aromatic hydrocarbons, which can cause respiratory diseases, while particulate matter resulting from incense burning are smaller than bacteria and can easily enter the human body.
Fight for Health Women's Group executive director Yen Shu-nu (顏淑女) said environmental protection is not in conflict with religions, and replacing ghost money with food offerings or charitable deeds has become a common trend.
"There are 91 temples in the city, but only 15 practice environmentally friendly worshiping. We called on the city office to encourage more temples to follow suit and reduce air pollution," Yen said.
She said the group asked the city office to monitor air quality during the whole pilgrimage and to make public data collected to serve as a basis for future pollution reduction efforts.
Chiu said the office has instructed temples to reduce the number of incense burners, use fewer and thinner incense sticks and build environmentally friendly furnaces to burn ghost money.
The Changhua County Government has provided temples with electronic firecrackers to reduce the use of traditional fireworks during religious activities, Chiu added.
Comments will be moderated. Keep comments relevant to the article. Remarks containing abusive and obscene language, personal attacks of any kind or promotion will be removed and the user banned. Final decision will be at the discretion of the Taipei Times.