Aborigines file for interpretation on 2014 hunting ruling
Aborigine hunters prosecuted in terms of the Wildlife Conservation Act (野生動物保育法) in 2014 are to file for a constitutional interpretation on the ruling, saying that the ruling conflicted with Article 19 of the Indigenous Peoples Basic Act (原住民族基本法) as well as constitutionally protected rights.
Bunun Aborigne Tama Talum, 56, was sentenced to three-and-a-half years in prison for violating the Wildlife Conservation Act and the Act Governing the Control of Guns, Ammunition and Knives (槍砲彈藥刀械管制條例), for hunting a Formosan Reeve's muntjac and a goat in 2013 to provide fresh meat for his 94-year-old mother.
Supreme Prosecutors' Office Prosecutor-General Yen Ta-ho (顏大和) filed an extraordinary appeal against a jail sentence on grounds of suspected discrimination against Aboriginal culture in December last year.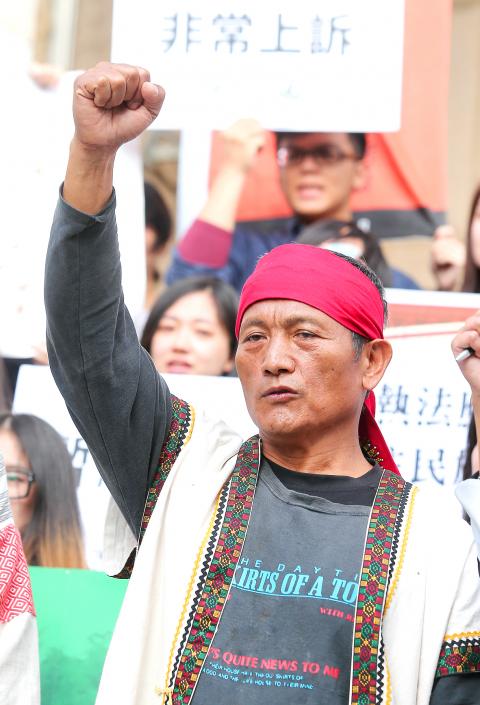 Bunun Aborigine Tama Talum raises his fist during a media event on Dec. 14 last year outside the Supreme Prosecutors' Office in Taipei, calling for an extraordinary appeal against his jail sentence for hunting.
Photo: CNA
Talum and lawyers on Friday last week filed an 80-page application for a constitutional interpretation.
Puyuma Aborigine Pan Chih-chiang (潘志強), who was arrested on similar charges, said in tears that they hoped Aborigines' mandate to continue their hunting culture would be placed on an equal footing with the conservation of the culture of the Han people.
Talum said that hunting was intricately tied to the life of an Aborigine and has been a constant, even under Japanese colonial rule, adding that they hoped the result of the constitutional interpretation would allow their people to hunt openly without fear of slander and recrimination.
Lawyer Wen Chih-jung (文志榮) said that Article 21 of the Wildlife Conservation Act states that necessary hunting by Aborigines due to traditional culture or for rites should not fall under the regulation of the act.
The ruling against Talum was due to the judge's interpretation that the hunt was carried out for personal reasons and was not a cultural or ceremonial act, Wen said, adding that Article 19 of the Indigenous Peoples Basic Act states that hunting is permitted for all three occasions as long as it is not conducted for profit.
Deputy Minister of the Council of Indigenous Peoples Tunkan Tansikian said the council hopes that the results of the interpretation would help conserve Aboriginal culture without overt violation of ecological conservation.
Tansikian said Taiwan could consider methods used by other nations that cap the number of animals allowed to be hunted, with hunters reporting catches so a government agency can keep track of changes to the wildlife population, adding that bans could be imposed if set limits are not adhered to.
Forestry Bureau Deputy Director-General Yang Hung-chih (楊宏志) said the government had offered to enact the same plan, but it was turned down by Aboriginal rights groups, who believe that the spoils of a hunt are granted by their ancestors.
Comments will be moderated. Keep comments relevant to the article. Remarks containing abusive and obscene language, personal attacks of any kind or promotion will be removed and the user banned. Final decision will be at the discretion of the Taipei Times.