Su Beng urges pursuit of knowledge at book launch
The 98-year-old Marxist Taiwan independence advocate Su Beng (史明) yesterday urged Taiwanese to arm themselves with knowledge about pursuing independence, while saying that his assistance to president-elect Tsai Ing-wen (蔡英文) was strategic, during the launch of his memoir that he spent 20 years writing.
Arriving in a wheelchair at the book launch in Taipei, Su was greeted by hundreds of supporters who packed the room with applause and shouts of "wansui" ("live long"), while a long line of people queued up to wait for Su to sign books they had purchased.
Born to a wealthy family in Taipei's Shilin District (士林) in 1918, Su obtained a degree in political economics from Waseda University in Tokyo, where he became a Marxist.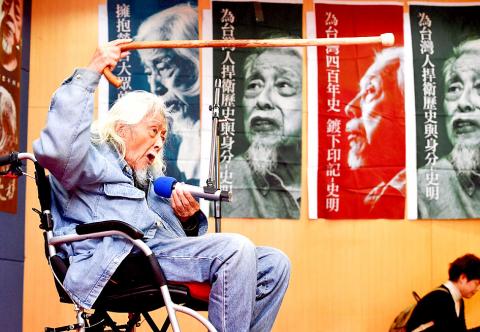 Taiwanese independence advocate Su Beng speaks at the book launch of his memoirs in Taipei yesterday.
Photo: Lo pei-der, Taipei Times
In 1942, after graduating, Su traveled to China to join the communist revolution, only to be disappointed by the Chinese Communist Party's brutality and ethnic manipulation, leading to his escape back to Taiwan in 1949.
However, his personal experience of years of living and fighting side-by-side with the Chinese communists turned Su into an advocate for Taiwanese independence.
Convinced that the then-authoritarian Chinese Nationalist Party (KMT) regime could only be overthrown by an armed revolution, Su was engaged in several bombing plots.
However, a failed attempt to assassinate then-president Chiang Kai-shek (蔣介石) led to Su's exile to Japan.
In recent years, Su has campaigned for the Democratic Progressive Party (DPP), though he, as a Marxist and an advocate of Taiwanese independence, might not fully agree with the mainstream values of the party and of Tsai.
"Certainly, I have expended much effort on Tsai's election campaign this time, because I wanted her to win," Su told the audience. "Why so? There is only one reason: I do not want Taiwan to be taken over by China."
"Socialism and revolutionary theories are not just about fighting. Sometimes, you have to compromise for Taiwan's future, it is high-level strategy," Su added.
He said that some people criticize him for what he was doing, accusing him of wanting to profit from Tsai's election, despite having held his ideologies since when he was younger.
"Whoever makes such statements does not know how things are. I would only take it as a joke," Su said.
He said that allowing the KMT to win is no different from allowing China to take over Taiwan, because the KMT and China are partners, adding that one key reason the KMT is still able to have an influence in Taiwan is because people do not study enough.
"I beg you to read more," Su said.
"It is important to arm yourself with knowledge, remain loyal to your ideologies and stay in solidarity with your comrades," he said.
DPP Secretary-General Joseph Wu (吳釗燮), DPP legislators Pasuya Yao (姚文智), Yu Mei-nu (尤美女) and Lee Ying-yuan (李應元), and New Power Party Legislator Freddy Lim (林昶佐) all attended the book launch.
Comments will be moderated. Keep comments relevant to the article. Remarks containing abusive and obscene language, personal attacks of any kind or promotion will be removed and the user banned. Final decision will be at the discretion of the Taipei Times.