Coalition slams Lantern Festival over pollution
BURNING JOSS: Traditional lanterns stood only 30cm tall and were made from cotton paper and bamboo, causing less environmental harm than modern lanterns
A coalition of environmental groups yesterday urged local governments to rein in sky lanterns, a tradition it said has become too commercialized and damages the environment.
The coalition, including the Wild at Heart Legal Defense Association, Taiwan Environmental Protection Union, Taiwan Watch Institute and others, issued a joint statement against the annual Sky Lantern Festival in New Taipei City's Pingsi District (平溪), which was attended by the mayors of New Taipei City, Taipei and Keelung yesterday.
The coalition said sky lanterns harm birds and forests, and endanger public safety, calling on mayors not to support the festival.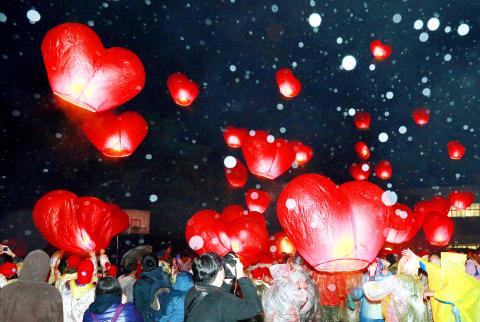 Revelers release heart-shaped sky lanterns to mark St Valentine's Day in New Taipei City's Pingsi Township on Feb. 14.
Photo: Fang Pin-chao, Taipei Times
Following a high-profile celebration of the 2003 Pingsi Sky Lantern Festival and promotional campaigns, the festival has become one of the Tourism Bureau's 12 national festivals, making the tradition of sky lanterns another commercialized spectacle, but also a pollution event, the coalition said.
Traditional sky lanterns, usually 30cm tall, are made from cotton paper on a bamboo frame. Joss paper is placed inside the lanterns and lit to provide hot air which makes the lanterns fly. Such lanterns generally burn out when flying and unburned parts that fall to the ground decompose, as they are made of natural materials, so they have little environmental impact, the coalition said.
However, modern sky lanterns, usually at least twice the size of traditional lanterns, are made with a wire frame and chemically coated and water-resistant paper, because bamboo lanterns cannot be released on rainy days.
Modern lanterns generally do not burn completely and land in nearby forests, causing pollution and even fires.
"It is not tradition, but the commercialized, industrialized festival that we are against. The Pingsi Sky Lantern Festival has erased the traditional culture of family reunion and religious worship, turning the event into a mere tourist attraction, where government officials open the festival with giant lanterns, followed by a massive wave of lantern launches by tourists. It is not the tourism model that a beautiful town like Pingsi should follow," the coalition said.
They said a celebrity who refused to host the festival this year for environmental reasons won the support of thousands of netizens, which suggested that awareness about the issue has been grown.
The coalition called on the government to build a sustainable tourism plan to preserve cultural tradition, while protecting the environment.
Comments will be moderated. Keep comments relevant to the article. Remarks containing abusive and obscene language, personal attacks of any kind or promotion will be removed and the user banned. Final decision will be at the discretion of the Taipei Times.